Oleg Andreyevich Yurievsky-Oldenburg/Олег Андреевич Юриевский-Олденбург
Oleg Yurievsky-Oldenburg
Timeline: The Green North


Portrait of Oleg Andreyevich Yurievsky-Oldenburg/Олег Андреевич Юриевский-Олденбург

Predecessor
Position created (Country established)
Successor
Illarion Vennikov
Vice President
Konstantin Arafimov

Governor of Russian Greenland
1914 – 1917

Predecessor
Yuriy Koslov
Successor
Position abolished (Colony dissolved)
Vice Governor
Konstantin Arafimov
Born
6 June 1864
Moscow, Russian Empire
Died
24 February 1951

(&000000000000008600000086 years, &0000000000000263000000263 days)
Peter City, Romanova

Spouse
Maria Yurievna Oldenburg
Political Party
White Russian
Profession
Politician, diplomat
Oleg Andreyevich Yurievsky-Oldenburg (Russian: Олег Андреевич Юриевский-Олденбург) was a Russian and later on Romanovan politician. He was the last governor of Russian Greenland, and the first president of the United Subjects of Romanova from 1917 to 1925.
Biography
Early life and career
Oldenburg was born to diplomat Andrey Oldenburg and Yevdokiya Yurievskaya in Moscow on 6 June 1864. Due to his father's profession, the Oldenburgs were always on the move, settling in a new place for as little as six months. Finally, in 1881, Oldenburg's father was assigned to Russian Greenland, and their family finally settled down. He entered the Peleviev University in the north of the colony and became a diplomat himself in 1890. He also married his college girlfriend Maria Yurievna Primakova that year.
Governorship
In 1914, Tsar Nicholas appointed Oldenburg governor of Russian Greenland after his predecessor Yuriy Koslov had finished his term. This surprised Oldenburg, as he had never served in a position of power in the colony, and that the other governors had been aristocrats. Nevertheless, Oldenburg accepted the appointment.
The "Group of Four"
The Group of Four was a secret society within the Russian Greenland government that was formed with the intention of sending the Tsar to a safe haven far from the clutches of potential enemies. Originally consisting of the four highest members of the Russian Greenland hierarchy, the society eventually grew to include Eugene Botkin, Boris Mikoyan, and a few other high-ranking officers that eventually participated in the daring rescue of the Romanov family.
The original members of the Group of Four are the following:
Oleg Yurievsky-Oldenburg
Konstantin Arafimov
Alfred Livoskin
Dmitri Petrovich
The following members joined at a later date:
Dr. Eugene Botkin
Boris Mikoyan
Vladimir Danilov
Sergey Namakov
Anatoly Lofsky
Oldenburg established the society in 1914 when he learned that the Bolsheviks were planning on instigating a civil war after the Imperial Russian Army suffered losses on the battlefield. He acted as leader of the society, coordinating the members' activities to ensure that Tsar Nicholas was in a position to be easily rescued if ever they determined that his life was in danger.
Operation Savior of Man
With the outbreak of the Russian Civil War, Oldenburg knew that his worst fears had been realized and managed to convince Marshal Alfred Livoskin and Admiral Dmitri Petrovich to deploy Russian-Greenlandic troops to fight against the Bolsheviks, which eventually became the Russian-Greenland Legions. When Colonel Boris Mikoyan, a member of the Group of Four, received word that the Communists were planning to execute the royal family, he cabled Oldenburg, asking permission to initiate "the plan." Oldenburg, after careful consideration with the other members of the Group of Four, gave Mikoyan permission. After almost a month of waiting, Mikoyan cabled back, stating that he had recovered the Tsar and his family safely.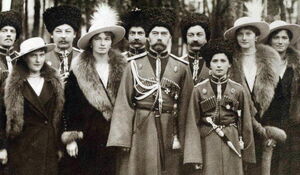 The Tsar's arrival in Romanova was greeted with great celebrations, and after a short period of time, Oldenburg held a referendum in which the Romanovan people chose to secede from Russia with the Tsar as a ceremonial figurehead. A constitution was drafted and enacted, and Oldenburg became the first president of the United Subjects of Romanova.
Presidency
While he was president, Oldenburg increased both the active and reserve forces of the newly created Romanovan Armed Forces in the face of the "Donskoyan threat." Back then, every Romanovan feared that the Bolsheviks, having taken control of Donskoya, would launch an invasion of Romanova and overthrow their Tsar. The entire armed forces increased from a paltry 10,000 troops to over 120,000 active and reserve personnel, which placed a heavy strain on the new nation's economy. This satisfied the more hawkish government officials in Romanova, and Oldenburg was even heard saying that "it was worth everything."
Nevertheless, it was because of this heightened state of awareness that led to Romanova's impressive military tradition, as the troops were constantly trained and kept proficient in preparation for the Bolshevik invasion that would never come. Oldenburg became attributed as "The Uncle of the Modern Romanovan Armed Forces," as the title of Father had already been given to Alfred Livoskin.
Later Life and Death
Oldenburg remained active within the Romanovan government even after his term as president had ended, acting as advisor to his successors. Finally, after suffering a mild stroke in 1939, he finally retired to his mansion in Peter City, settling down with his family before passing away on February 24, 1951. He was 87. His body lay in state at the Saints Peter and Paul Basilica for seven days, and then he was buried in the Romanovan National Cemetery for Heroes and Honored People. He was survived by his five children.
Legacy
Oldenburg left behind a very great legacy for others to follow. He led Romanova through its first uncertain years as a new nation, mustered its people to defend against "the Bolshevik threat across the strait" in Donskoya, and made it a regional power alongside Britain and France, which were represented by their colonies on Greenland. His presence was so great that streets, buildings, and even an entire town was named after him. At least three Romanovan Navy ships also bear his name, among them a cruiser and two destroyers.
Private life
Oldenburg's hobbies include clay pigeon shooting, fishing, and sailing. He was married to Maria Yurievna Oldenburg (maiden name Primakova) and had three sons and two daughters with her: Andrey Olegovich (b. 1891), Yelena Olegovna (b. 1894), Yuri and Anatoly Olegovich (b. 1899), and Kseniya Olegovna (b. 1905). All of his children had on at least one point in their lives served in the Romanovan government.
Honors and awards