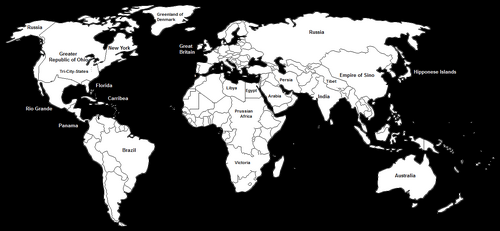 A Buckeye's fantasy AltHist.
POD:
With the destruction of DC by British, Northwest Territory Ordinance places the new capital of the American republic in Ohio, renamed into the Great Ohioan Republic.
Notable Differences:
Wendy's is the major fast food provider, with White Castle a close second.
Major Nations:
Greater Republic of Ohio (also, Greater Ohio Republic, Great Ohioan Republic), Capital(s): Columbia (Columbus; Executive Capital), Cincinatti (Judicial Capital), and Cleveland( Legislative Capital).
New York, Capital: Manhattan
Florida, Capital: Pensacola
California, Capital: Lancaster
Rio Grande, Capital: Lubbock
Panama
Brazil, Capital: Rio de Janeiro
Great Britain, Capital: London
Libya
Egypt, Capital: Cairo
Prussian Africa
Victoria
Arabia, Capital: Mecca
Persia
Tibet
Empire of China, Capital: Beijing
India, Capital: New Delhi
Russia, Capital: Moscow
Australia
Nipponese Islands, Capital: Kyoto