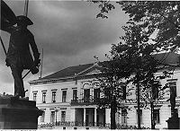 Previous -
OITW: I'm an Owner (CYOAH)
Of Course! Propaganda films are your specialty. You then notice something in your pocket ... what's this? A letter! Joseph Göbbels himself has asked you to film a propaganda film. The letter also says that your crew will be there waiting for you. Since you are his finest director you see it necessary to go. Except ... the town name is smudge ... as you struggle to read it it looks like you're going to ...
Where are you going?
To ask Göbbels where we're filming. 
Doctor261 (Talk to Doctor261) 10:37, May 5, 2012 (UTC)