Ad blocker interference detected!
Wikia is a free-to-use site that makes money from advertising. We have a modified experience for viewers using ad blockers

Wikia is not accessible if you've made further modifications. Remove the custom ad blocker rule(s) and the page will load as expected.
Nuclear Weapons can be refers to Atomic bomb, Hydrogen bomb and Neutron bomb.The first nuclear weapons was made by Germany in 1944.
Nuclear Powers
Germany
Germany started their nuclear plan in 1940.They started the first test in 1944, known as the Reich test.It is the first nuclear test in world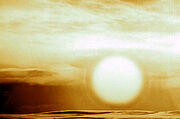 United Kingdom
United States
China
India
Brazil
Cancelled Nuclear Plan
Canada
South Africa
Malaya
Spain
Indochina
Argentia
Colombia
Palestine
Korea
Nuclear Sharing Program
Italy
Ukraine
Hungary
Bulgaria
Spain
Suspected/undeclared Nuclear Power
Japan
Iran
France