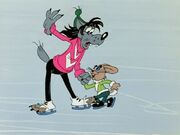 Nu, pogodi! (Russian: Ну, погоди!, "Well, Just You Wait!") is a Soviet animated series of short films began in 1969 by Soyuzmultfilm. The series focuses on the rivalry of an anthromorphic wolf (Volk in Russian) and hare (Zayats). The series was influenced by many Western animated series (including Tom and Jerry and Wile E. Coyote and The Road Runner). Since its debut in 1969, the series has gained national and international popularity in the Soviet Union and Eastern Europe.
Since the 2000s the series has seen a rebirth following the economic boom of the USSR during the late 1990s.


This New Union related article is a stub. You can help by expanding it.
Ad blocker interference detected!
Wikia is a free-to-use site that makes money from advertising. We have a modified experience for viewers using ad blockers

Wikia is not accessible if you've made further modifications. Remove the custom ad blocker rule(s) and the page will load as expected.