The following An Earlier World Cup of Football page is under construction.

Please do not edit or alter this article in any way while this template is active. All unauthorized edits may be reverted on the admin's discretion. Propose any changes to the talk page.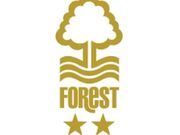 Nottingham Forest is a club which is based in Nottingham, England, the United Kingdom. It was founded in 1865 and entered the Football league in 1893. It has won various competitions in its 150 year history, including the (renamed to the Premier League in 1992) First Division, the Second Division (renamed the first division in 1992 and the Championship in 2002), the FA Cup, the League Cup (4 times), the Community Shield, The Euro Shield and most notably the European Cup twice in the Rowe in 1979 and 1980 (Renamed the Champions League in Modern era).
They won most of these competitions when managed by Brian Clough who managed the club from 1975-1993. He's presumed a club hero by almost all fans. He began his career at Forest in 1975, they were a pretty poor team, mid table finishes in the 2nd Division. In 1977 they won promos ion to the 1st Division by finishing 3rd. Amazingly they managed to win the 1st Division the next year. He then got on to win 2 European Cups on the trot, pretty amazing for a previous club who had only won the FA Cup twist and never won the 1st Division. He won the most cups in the late 70s and early 80s. He left the club in 1993 due to the club fasing relegation from the new Premier League.
In modern times the club has struggled only reaching the Premier League in 1995 and 1998. They fell to the League 1 (3rd tier) for the first time since Brian Clough, making it the first club to get demoted to the 3rd tier of the domestic league after winning the European Cup. After winning promotion back to the Championship in 2008, they've stabilized. They were bought by Kuwait Billionaires in 2012 after a rough patch. They invested loads of money into the club, making it to go to a height of 7th.