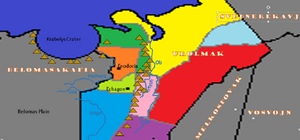 Northern Asia is a geographical region including much of the former Soviet Union. Northern Asia was the general term for that area at the beginning of the Cold War instead of saying the countries because of political controversy.
Border
The southern edge is defined by the Belomanshker Sea, the Caspian Sea, the Aral Sea, the Balkan Sea, the Baikal Sea and a straight line leading to the Sea of Okhotsk. The western boundary is defined by Lake Ladoga and Lake Vilnusa and the Eastern Boundary is usually considered to be the Lena River until it connects to the Aldan River where the Alder is the boundary until the rivers start in the Stanavoy Mountains, which then acts as the border until the Sea of Okhotsk. Northern Asia may or may not include the Kamchatka Peninsula but most world leaders and geographers say it doesn't.
Countries
Northern Asia fully encloses two countries and partly encloses six. The fully enclosed countries are Urolmak and Belomasakafia while the partly enclosed ones are Petzok, the Republic of Latvia, Congcong, Melkospovak, Vosvojn and Svenerekavj. Northern Asia contains Chrebetrek, if the Kamchatka peninsula is considered part of Northern Asia.
Geography
Northern Asia contains many notable geographical features including:
Plains

The Belomas Plain
The Siberian Plain

Craters
Depressions
Biome

The Melkospovak Deserts, including the Karakum Desert
The Siberian Tundra

Gulfs

The Gulf of Ob
The Yenisei Gulf

Islands/Archipelagos
Peninsulas
Mountain Ranges
Rivers