日本人民共和国
People's Republic of Japan
Official language
Japanese
Capital
(Before 1994) Hakodate

(After 1994) Tokyo

General Secretary
Kazuo Shii
Premier
Akira Koike
State Ideology
Communism
Territories
(Before 1994) Hokkaido, Northern Honshu

(After 1994) Hokkaido, Honshu, Kyushu, Shikoku, Okinawa, Tsushima, 1000+ other islands

Population
61,295,000
Establishment
September 9, 1948
Currency
"Red" Yen
After the successful American invasion of Japan which began on October 15th 1945, the Red army occupied Hokkaido and the the northern point of Honshu and the remaining home islands were occupied by the United States, The Free British and The Republic of China, Tokyo remained under joint administration. In August 1946, the Red Army established a Soviet Civil Authority to rule the country until a domestic regime, friendly to the USSR, could be established under Japanese communist leader Kyuichi Tokuda. In 1948, the People's Republic of Japan was declared. After the Soviet forces' departure in 1949, the main agenda in the following years was unification of Japan from both sides until the consolidation of Kantarō Suzuki regime in the South with American military support and the suppression of the October 1949 insurrection ended hopes that the country could be reunified by way of Communist revolution in the South. In 1950, a military intervention into South Japan was considered by the Northern regime but failed to receive support from the Soviet Union, which had played a key role in the establishment of the country. The withdrawal of most US forces from the South in June dramatically weakened the Southern regime and encouraged Kyuichi Tokuda to re-think an invasion plan against the South. The idea itself was first rejected by Josef Stalin; but with indications of help from Kim il-Sung's government in Korea that it would send troops, Tokuda launched an invasion of Southern Japan in 1951. Northern Soldiers were able to push south, unifying Tokyo and capturing the Southern Japanese capital of Osaka. However, in August, American Marines landed near Kobe. When they captured North Tokyo (Tokuda's zone of the divided city) in December; Korean troops, along with some International Brigades of volunteers, landed near the city of Fukuoka on the island of Kyushu. The war reached a stalemate over three months, until the Soviets stepped in to broker a peace deal. Japan remained divided until 1994, when Southern protesters tore down the Tokyo Wall and crossed into the Northern sector of the city. This signaled the end of the American backed regime in the South. In 1995, the country was united under Northern rule, with the capital transferred to Tokyo.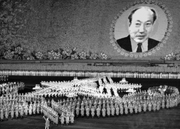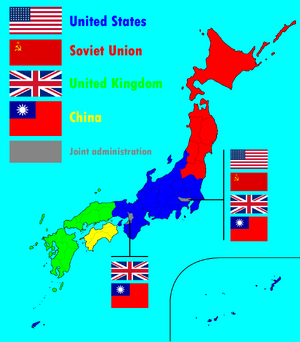 Ad blocker interference detected!
Wikia is a free-to-use site that makes money from advertising. We have a modified experience for viewers using ad blockers

Wikia is not accessible if you've made further modifications. Remove the custom ad blocker rule(s) and the page will load as expected.