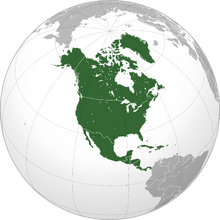 North America is a continent on Planet Earth. Once the land of the Powerful nations of America and Canada, these lands have fallen from glory, and many here now live a hand-to-mouth existence.
Regions
Great Plains
Rocky Mountains
Great Lakes
Great Deserts

Mojave
Sonora
Great Basin

Gulf Coast
Quebec
Nations
Ad blocker interference detected!
Wikia is a free-to-use site that makes money from advertising. We have a modified experience for viewers using ad blockers

Wikia is not accessible if you've made further modifications. Remove the custom ad blocker rule(s) and the page will load as expected.