Ad blocker interference detected!
Wikia is a free-to-use site that makes money from advertising. We have a modified experience for viewers using ad blockers

Wikia is not accessible if you've made further modifications. Remove the custom ad blocker rule(s) and the page will load as expected.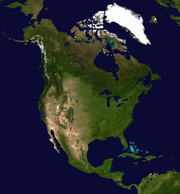 North America
is a continent located completely within the Northern Hemisphere and is mostly located within the Western Hemisphere. It is bordered to the north by the Arctic Ocean, to the east by the Atlantic Ocean, to the west and south by the Pacific Ocean, and to the southeast by
South America
and the Caribbean Sea. North America covers an area of about 24,709,000 sq km (9,540,000 sq mi), about 4.8% of the planet's surface or about 16.5% of its land area. As of July 2008, its population was estimated at nearly 529 million people across seven sovereign states. North America is the third-largest continent in area, following
Asia
and
Africa
, and the fourth in population after Asia, Africa, and
Europe
.