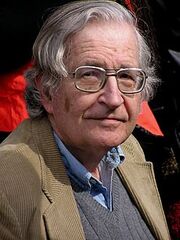 Noam (Avram Noam) Chomsky is a former President of the United States of America and a professor of linguistics.
Chomsky was born on 7 December 1928 in Philadelphia, Pennsylvania, the son of professor and IWW member William Chomsky (1896-1977), and his wife Elsie, née Simonofsky. Both his parents were Jews from the Russian Empire, although his mother grew up in the United States and spoke, unlike her husband "Ordinary New York English". His parents first language was Yiddish, but according to Chomsky, it was "taboo" to speak it in his home.
Chomsky has been an academic in the field of linguistics for many years, and a left-wing critic of both the United States, and the British, German and Russian Empires. He was surprisingly voted President of the United States, running as a Democrat, and took office on 20 January 1993, succeeding the Conservative George Bush. He was, without doubt, the most left-wing president ever in the history of the United States, and one of the most left-wing elected leaders in any country, ever.
Although Chomsky had problems with Congress and Senate blocking many of his policies, he managed to socialize health care, expand the public sector and impose many important welfare reforms, including a basic income of $1,000 (1995 value of the US$), given to all adult permanent residents of the United States, ban gun ownership, impose more environment-friendly policies such as drastically raising taxes on gasolene and investing in trains, and increasing funds for education. He was a very popular president, and was re-elected 1996. He left office on 20 January 2001, succeeded by the Conservative Michael Mukasey.
Ad blocker interference detected!
Wikia is a free-to-use site that makes money from advertising. We have a modified experience for viewers using ad blockers

Wikia is not accessible if you've made further modifications. Remove the custom ad blocker rule(s) and the page will load as expected.