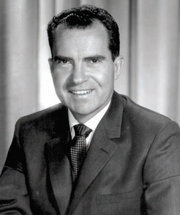 In 1960, Vice President Richard Nixon lost a close election to President John F. Kennedy. Planning his comeback, he ran for governor of California in 1962 and suffered a humiliating defeat to Governor Pat Brown. Upon his defeat, Nixon left politics and moved to New York City where he worked as a lawyer before his retirement in 1988.
Nixon was relatively quiet after his defeat, and never spoke at another Republican National Convention or publicly endorsed another political candidate. He did, however, have a highly successful legal career, causing him to die in relative wealth in 1997.
Ad blocker interference detected!
Wikia is a free-to-use site that makes money from advertising. We have a modified experience for viewers using ad blockers

Wikia is not accessible if you've made further modifications. Remove the custom ad blocker rule(s) and the page will load as expected.