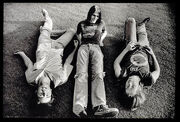 Nirvana
Nirvana were an American rock band formed in Aberdeen,Washington in 1987 by vocalist and guitarist Kurt Cobain and bass guitarist Krist Novoselic. The band though initially marketed as a "hard rock" band towards the end of its career moved more towards a Beatles influenced sound incorporating some pop rock. Nirvana over the course of its career released three albums, one compilation album and five singles. The band are best known for the one hit wonder Smells Like Teen Spirit released in early 1992. Toward the band's end drummer Chad Channing began to take a more active role in songwriting which led to some friction with Cobain. This culminated in the band breaking up in 1997. Nirvana were immensely popular in Europe in particular Britain and Scandinavia but failed to make it in their native America. They have attracted a huge cult following.
History
1987-1992 Beginnings
The band were formed in 1987 by Kurt Cobain and Krist Novoselic in the small town of Aberdeen, Washington. Cobain and Novoselic were initially influenced by Punk Rock drawing from a previous band of Cobain's.
The band rehearsed originally at a hairdressers. In 1989 the band released Bleach.The album received little attention and sold only a small number of copies. Nevertheless, popular support in Britain saw the band play on the radio on the John Peel Sessions in 1990.
By 1990 the band had received interest from a few major record labels but the massive success of Mother Love Bone saw interest in Nirvana drop dramatically with record labels instead moving on to bands with a much more metal foundation. Similarly during the same year pressure from management forced the band into revising certain aspects of there second album which was originally going to be called Never mind. The band changed the feel of the album to be much more hard rock oriented to appeal to metalheads. Curmudgeon was released in 1992 and received some attention following the release of Smells Like Teens Spirit which would become a one hit wonder for the band. Curmudgeon was the bands most successful album.
1992-1997 All Apologies And Break Up
Following Curmudgeon which was popular in Europe, the band embarked on a tour centered primarily in Britain. In 1993 and 1994 the band concentrated on branching out to gain new fans but this was of little success due to the massive success of Mother Love Bone and similar Metal bands.
In 1995 the band changed priorities for a much more Beatles influenced sound with All Apologies. The album gained a positive reception but failed to chart as much as Curmudgeon did. The album though was very popular in the independent market, college radio as well as Britain.
In 1997 the band began to record for a possible 4th album with a greater emphasis on songwriting input from drummer Chad Channing. Several songs were recorded most of which were written by Channing. This caused slight friction with Cobain and later that year a fourth album was abandoned and the band split up.
Post Nirvana
Kurt Cobain later became a singer songwriter releasing two albums one in 2000 and again in 2003. He is currently no longer playing and has since concentrated on poetry publishing a work of poetry in 2006. Krist Novoselic played for a number of local punk rock bands in independent circles. A spell with the Melvins was a result in 2005 where he played bass on the album.Chad Channing formed a new band The Birds And The Bees who have currently released three albums independently. In 2005 a compilation album was released called Lithium which featured unreleased recordings from sessions including the abandoned. Never mind as well as the abandoned 4th album songs.
Former Members
Kurt Cobain- Vocals, Guitar
Krist Novoselic- Bass Guitar
Chad Channing- Drums
Discography
1989- Bleach
1992- Curmudgeon
1995- All Apologies
2005- Lithium
Ad blocker interference detected!
Wikia is a free-to-use site that makes money from advertising. We have a modified experience for viewers using ad blockers

Wikia is not accessible if you've made further modifications. Remove the custom ad blocker rule(s) and the page will load as expected.