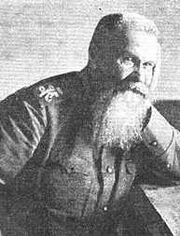 Nikolai Iudovich Ivanov (Russian: Николаи Иудович Иванов) (3 August 1851—7 January 1922) was a Russian general of the First World War.
Biography
Ivanov came from a military family. He graduated from the Mikhailovsky Artillery School in 1869, and served in the 3rd Grenadier Guards and artillery brigades. His first combat experience came during the Russo-Turkish War (1877-1878), and he subsequently remained in Romania to serve as an instructor to the Romanian Army. From 28 July 1884 he was commander of the 2nd Battery of the Imperial Guards Artillery, and on 11 April 1890 was appointed commandant of the fortress artillery of Kronstadt. On 14 December 1899 he was selected to be an aide-de-camp to Grand Duke Michael. He participated in the suppression of the Boxer Rebellion in China in 1900.
Before the start of the Russo-Japanese War, Ivanov was promoted to lieutenant general. Following the death of Lieutenant General Fyodor Keller in August 1904, he succeeded him as commander of 3rd Siberian Corps. He participated in the Battle of Liaoyang and the Battle of Mukden, and despite his lack of distinction, he was awarded the prestigious Order of St. George (4th class and 3rd class with golden arms, decorated with diamonds). After the end of the war, he was briefly Chief of Logistics of the Russian Manchurian Army, overseeing its withdrawal back to Russia. From 19 December 1905 to 6 November 1907 he commanded an Army Corps within the St. Petersburg Military District, further assuming the role of interim governor-general of Kronstadt from 6 November 1907. The fortress city was a hotbed of revolutionary activity following the Russian Revolution of 1905, and Ivanov took decisive action to curb unrest in his military units. He was promoted to Adjutant General in 1907, General of Artillery from 13 April 1908, and Commander of the Kiev Military District from 2 December 1908, a post which he held until the start of World War I in 1914.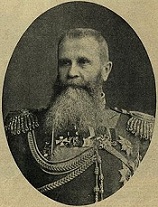 With the start of World War I, Ivanov was given command of the Imperial Russian Army on the Southwestern Front, responsible for much of the action in Galicia. Ivanov was able to hand the Austrians a defeat at the Battle of Galicia in August 1914 and a month later had repelled Austro-Hungarian forces 100 miles back to the Carpathian Mountains, surrounded Przemyśl, and inflicted 300,000 casualties. For these successes he was awarded the Order of St. George (2nd class) and the Order of St. Vladimir (1st class with Swords).
Ad blocker interference detected!
Wikia is a free-to-use site that makes money from advertising. We have a modified experience for viewers using ad blockers

Wikia is not accessible if you've made further modifications. Remove the custom ad blocker rule(s) and the page will load as expected.