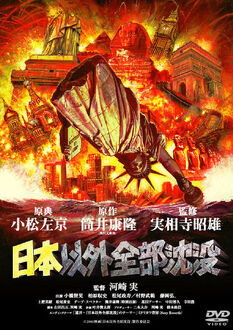 Nihon Igai Zenbu Chinbotsu (日本以外全部沈没, lit. "Everything Other than Japan Sinks") is a 2009 Japanese dark comedy film directed by Minoru Kawasaki. It is a parody of the 2005 film Nihon Chinbotsu (lit. "Japan Sinks").
The original short novel written by Yasutaka Tsutsui criticises nationalism and racism. It also describes humans as powerless against disaster.
Plot
It begins with main character Sayaka Kitagawa (Sachie Hara) who works for the News Station, and reports on the sinking of the British Empire. The British Prime Minister and government cabinets managed to board an aeroplane and moved to Kyoto. Meanwhile, the Argentine President (played by Bérénice Bejo) and Russian President converts to Shinto and does tricks for the Japanese Prime Minister.
After the rest of the world sinks (except Japan), most of the foreigners are forced to move to either Dai Viet Prefecture (Vietnam Prefecture) or Mindanao Prefecture (Philippines). They still face a difficult time adjusting, and as the other currencies begin to fall mostly useless, some foreigners find themselves homeless while some others of them manage to get jobs.
Among these is former award winning actor Kenny Bardock, who was popular back in the British Empire. He finds a difficult time in the acting industry in Japan and soon loses his apartment. But later he moves to Manchukuo Prefecture and managed to become a cook.

Later on, during a meeting, a few Cubans, along with Raul Castro (played by Kazuyuki Aijima), disguised as janitors come in to interrupt the meeting, and soon another earthquake happens.
The film ends with all of Japan sinking, and a ship flying above with Argentine President (still cosplaying as Kogasa Tatara) flying alongside it.
Ad blocker interference detected!
Wikia is a free-to-use site that makes money from advertising. We have a modified experience for viewers using ad blockers

Wikia is not accessible if you've made further modifications. Remove the custom ad blocker rule(s) and the page will load as expected.