Nicholas II (18 May 1868 – 21 May 1933) was an Emperor of Russia, Grand Duke of Finland, and titular King of Poland, from 1 November 1894 to 12 February 1907. He was officially known as Nicholas II, Emperor and Autocrat of All the Russias.
During his reign, Nicholas was faced with much dissent among leaders and his people. In the later years of his reign, he suffered a devastating loss in the Russo-Japanese War, faced widespread revolutions during the Revolutions of 1905, and was again dragged into war with the Great War of Europe. During this war, he abdicated his position and fled with his family to the United Kingdom. He was succeeded by his younger brother, Michael.
Background
Nicholas was born at Tsarskoye Selo in Saint Petersburg, Russia.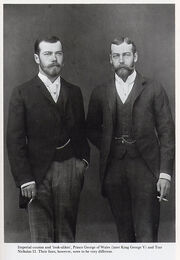 Reign
Wars
Abdication
Life in Exile
Death