June 27, 2015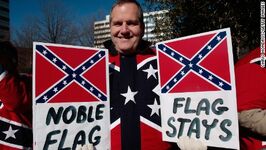 CHARLESTON, SOUTH CAROLINA
- Despite rigorous efforts by liberal activists to ban the Confederate flag, the southern states are fighting back at the hate. During a meeting in Charleston, South Carolina, the site of where Dylann Roof shot nine church-goers, the governors of not only South Carolina, but also of Alabama, Georgia, Texas, Mississippi, North Carolina, Virginia and even Florida met to discuss the entire controversy.
All the governors concluded with one final decision: the flag stays.
Pat McCrory, North Carolina's governor said, "If people can wave gay flags, if people can wave Islamic State flags, then We The People, have the right to fly Confederate flags." 
Greg Abbott, Texas' governor said, "Let the people enjoy their First Amendment rights." 
Nikki Haley, South Carolina's governor said, "The flag stays. The flag represents our heritage and our culture, and those who claim that the flag is a symbol of slavery are talking straight-up nonsense. The Confederate flag has nothing to do with supporting history, it just represents our heritage as southerners." 
Nathan Deal, Georgia's governor said, "This is the south, damn it. You are going to see Confederate flags everywhere, just like being in the rest of America you would see American flags flying anywhere. If people don't like it, then they can pack up and move to the land of the Yanks [New York]."
Many southerners are rejoicing in this announcement, and the liberals are furious. J. Richard Cohen, the president of the Southern Poverty Law Center said, "This is a sick and inhumane embracing of a slavery culture." 
Nadia Awlaqi, the Vice President of CAIR (Council on American-Islamic Relations) said, "We can see where white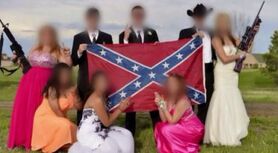 supremacists get us to, and now the governors of these states defend such a symbol of human atrocity? I am purely disgusted. We need to continue the fight. We can't give up."
Many gun stores in the south are now doubling the presence of Confederate flags in their properties. John Wood, a 56-year old owner of a gun store in North Carolina keeps Confederate and American flags, flying side by-side in his gun shop.
He said, "It [Confederate flag] is our culture, if people don't like it, they can go somewhere else. It's a battle flag. A symbol of our battle to protect our Constitutional rights."
People are putting the flag in their prom photos, cakes, flying the flag in their businesses - the south indeed has fought back. 
Ad blocker interference detected!
Wikia is a free-to-use site that makes money from advertising. We have a modified experience for viewers using ad blockers

Wikia is not accessible if you've made further modifications. Remove the custom ad blocker rule(s) and the page will load as expected.