June 23, 2015
ZAMBOANGA CITY, PHILIPPINES - Today Sancho Abelló y Terrazas has been banned, shunned by the Conservative Party of the Philippines, the party he so-long was involved with. He served as its most recent President, from 2012 up to his suspension in 2015.
On June 16, 2015, Sancho made some very controversial comments regarding Muslims and Palestinians. Sancho has already been known for his anti-Islam sentiments, and served in the Philippine Armed Forces in Mindanao where he was charged with several military atrocities, including the bombing and destruction of a Zamboanga City mosque.
During an interview with ABC-CBN about the people of Mindanao, Sancho said, "The only way to keep the Muslims from spreading is to kill their children, prevent them fr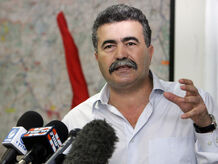 om reproducing. Either convert their children to Catholicism, or kill them." 
When asked about the Palestinian-Israeli conflict, he also made more angering comments about the killing of Palestinian mothers.
"I want to kill the Palestinians, take their wives, and rape them all. Make them submit to Israeli rule, and make them become Catholics. I want to take a knife and shove it deep into a Palestinian person's throat."
After receiving the news, the Conservative Party's Advisory Board immediately suspended his position as President, leaving the position vacant. The Conservative Party's leader, Hernan Sanchez y Rodrigo, immediately apologized for the comments on June 17, 2015. 
"First off, to all the Muslims, Arabs and Palestinians who were affected by Sancho's derogatory comments, I would like to apologize on the behalf of the Conservative Party of the Philippines. This is not who we want representing us, this is not how we want to restore Spanish influence. I certainly do not approve of his comments, our Advisory Board certainly does not approve."
That same day, Sancho apologized and said that he got a little carried away.
"I'm sorry, I mean I stand by my beliefs. But I just got a little carried away with my comments. Obviously I don't wanna kill anybody that's innocent."
However, this "mere apology" wasn't enough for Hernan, as well as the rest of the Conservative Party's leaders. 
Jaime Castillo-Amescua, the Secretary-General refuted Sancho's "mere apology". He said, "Sancho clearly lacks self control. We cannot have people like that in our party."
Today, Sancho and the rest of Advisory Board met in Zamboanga City, the very city that Sancho committed most of his military atrocities in. The city is also home to one of the party's headquarters.
Juan Barrantes, the spokesperson was the one who issued the final decision.
"Sancho, we have decided that we cannot have unstable people in our party any longer. You have caused many discrepancies in Philippine society, we have to permanently let you go. You cannot return for any positions in our party."
The inhabitants of Zamboanga City celebrated Sancho's ban from entering Philippine politics. Obviously for Sancho, this decision didn't sit well. He didn't have much to say as he was rather bummed out.
"I gave my life for this party, and for this country. I really just cannot believe how I am getting paid back for it."
Ad blocker interference detected!
Wikia is a free-to-use site that makes money from advertising. We have a modified experience for viewers using ad blockers

Wikia is not accessible if you've made further modifications. Remove the custom ad blocker rule(s) and the page will load as expected.