May 19, 2015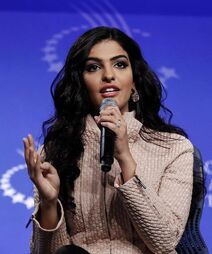 PARIS, FRANCE - Princess Razia bint Fahad is more than just a Crown Princess of the Kingdom, the "other" kingdom - that is North Syria. Razia, has been an outspoken global figure against civilian firearms ownership and it is she, along with other North Syrian women that paved the way for the Peaceful Citizens Act which banned all civilian firearms in the Kingdom for four years until Bill NS-35 initially killed the act.
The first gun store opened in Aleppo on May 11, 2015.
With a number of countries recently embracing gun ownership, and some even adding constitutional rights to bear arms such as Canada, Australia and Indonesia, Princess Razia blames the United States for this influence.
Razia is a Head of the United Nations Peace Program, as well as the North Syrian Peace Program. She spoke at the program's headquarters in Paris.
"You know, I couldn't have been experiencing anything more abominable than countries giving their citizens guns. The King, my father has now legalized firearms ownership. Certain Canadian provinces have now made sure that citizens can attain firearms. Many countries are now embracing gun ownership, and it's all America's fault."
Razia says that influence from America's love of guns is the blame, and says that America needs to scrap it
gun habits. She mimicked the words of former Australian prime minister Jonathan Howard in her speech.
"There are many things I love about America, but one of the things I really hate is their slavish love of guns."
Razia has also called for the United States to hand over firearms legislations to the hands of the United Nations.
"Americans need to end their love of guns, and their love of a culture of violence. They need to hand over all firearms lawmaking decisions to the United Nations. I'm tired of hearing this government or that government making firearms ownsership a guaranteed law."
She said that it was the work of Christian Evangelists from the United States that fueled it.
"Those Protestant Evangelists are to blame. They are the ones who spread their influence, using non-citizen activists to promote their non-sensical vigilante culture. They need to get used to the fact that it is not the citizens' job to fight crime, it only for the police and the military."
Jasmine al-Sarraf, another Crown Princess and the current Royal Surgeon-General of North Syria states that she stands by Razia, and will find the mental for "such a love of guns".
She said, "I will help us become a peaceful world and eliminate guns. First, I have to find out what mental condition fuels this evil love of such tools. Then we can start from there."
Currently, there are 784,000 firearms licenses in North Syria, and 2,134,131 legally-purchase firearms. This number is increasing. 
Ad blocker interference detected!
Wikia is a free-to-use site that makes money from advertising. We have a modified experience for viewers using ad blockers

Wikia is not accessible if you've made further modifications. Remove the custom ad blocker rule(s) and the page will load as expected.