October 12, 2015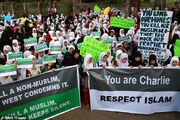 MARAWI CITY, PHILIPPINES 
- Today, Muslim demonstrators, across the island of Mindanao, began demanding that Mindanao be under the religious jurisdiction of Caliph Abu-Bakr Sayyid al-Makka. The demonstration took place in Marawi City, one of the predominantly Muslim cities in the southern Philippines, known as the "Islamic City" of the Philippines.
Ibrahim Sudirman, the leader of the demonstration said, "We are not Catholics, we do not follow the orders of the Pope who has unfortunately, been given control of all the Philippines. We do not want to be under the jurisdiction of the Pope, we need to be under Muslim leadership."
Currently, the Philippines is part of the Catholic Empire, the Islamic Caliphate's Catholic counterpart. The Philippines officially announced and negotiated its membership in the Catholic Empire during the presidency of Gloria Mcapagal-Arroyo, and during the leadership of Pope John Paul II, who was then honored as being the Pope of the Philippines.
It is possible for the Catholic Empire to share religious control of a country with another religious entity. For example in Nigeria, the Catholic Empire currently assumes religious jurisdiction of the southern parts, home to Nigeria's Christian population and the Islamic Caliphate controls the northern parts, home to the country's Muslim population.
Sudirman said, "It's been far too long that the Catholic Church has continued its tirade, and its ethnic cleansing of Mindanao and Sulu. We are having it no longer."
In 2005, the Philippine government rejected a proposal to share control of the country with the Islamic Caliphate. 
This would not be the first time in Southeast Asia that demonstrators have protested for more religious control of the nation. In 2005 at the same time the Philippine government rejected Islamic Caliphate-control of the nation, Muslim protestors in Indonesia protested for the Caliphate have religious authority in the country, which is currently not a member of any religious entity.
In 2012, Muslim protestors in southern Thailand wanted the south to become under Caliphate control. In the United States, another country that is not under any religious jurisdiction, Catholics have protested for the Pope to become the country's leader. However, doing so would be violation of Constitutional law in the United States.
Ad blocker interference detected!
Wikia is a free-to-use site that makes money from advertising. We have a modified experience for viewers using ad blockers

Wikia is not accessible if you've made further modifications. Remove the custom ad blocker rule(s) and the page will load as expected.