November 3, 2015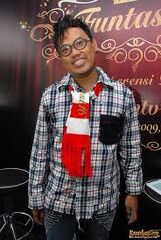 JAKARTA, INDONESIA
- In a span of three years, from 2012 to 2015, Eat Bulaga! Indonesia has undergone three television network changes. The Indonesian franchise of the longest-running Philippine noontime show (Eat Bulaga!) debuted on SCTV on July 16, 2012 making it through two years (a very successful first year) until April 3, 2014 in a very heartbreaking decline.
It returned as "The New Eat Bulaga! Indonesia" this time on ANTV, on November 17, 2015 and this incarnation was almost nothing like the first one. Save for Uya Kuya, Farid Aja and Reza Bukan, the show was replaced by entirely new hosts (even featuring three Indian actors in Shaheer Sheikh, Vin Rana and Saurav Gurjar). Even the segments' names all changed, for example Satu Untuk Semua, Semua Untuk Satu became "Berbagi Kejutan" and Indonesia Pintar became "Tokcer".
During its time on ANTV Network, the show may have seemed very resurrected, until Uya Kuya recently revealed that things had begun breaking down backstage, including verbal and even phsyical fights between fellow cast members. Today, Uya Kuya revealed on an Indonesian-language episode of Asian Entertainment Radio with Filipino-American podcaster John Baraquiao as why he left ANTV. Two camerman from the network also squared off in a fist-fight during a segment of Berbagi Kejutan (subsequently being released later). Ibnu Jamil got phsyical with another cast member, and on an August 25 episode on the segment of Tanjidor, Tengku Dewi Putri angrily walked away from the show after being told last minute that she would partake in the game.
"The work environment was just, very toxic. On the outside, it seemed all happy, we were all working together trying spread positive values for the people of Indonesia. But you know, looks can be deceiving and that's what workplace is, you gotta put aside your personal feelings and put on a happy face for the people. But we imploded."
After the August 28 episode finished airing, after another disagreement with one of the ANTV crew members, Uya Kuya legitimately walked out on the network after telling them "I'm going home". However, Uya Kuya remembered leaving the show in the past, which was what caused Eat Bulaga! Indonesia's first decline with SCTV.
"On August 28, that was just..the final straw. I literally went up to Ahmad Adianto [network executive] and told him to fire these people that make it toxic, and he didn't do anything. That's when I finally told him, 'I'm going home'. As I walked out of the building, all the memories I had with the original people at SCTV, they just poured on me and it became unbearable."
Not wanting to be a quitter, Uya Kuya had actually called Farid Aja and Reza Bukan and they discussed the entire issue during dinner at Shabu Ghin, a Japanese restaurant. The two had actually agreed with Uya Kuya that returning to SCTV and re-uniting with the original hosts may just be the best option.
"So that night, I didn't wanna be a quitter. Not like last time, so I called Reza Bukan and Farid Aja because I really needed their help. As we sat there and ate, they actually agreed with me, we needed to switch networks. At first I didn't wanna do it, because it's such a hassle but if it's best for the show, so be it. Look, Eat Bulaga! Indonesia spent two years with SCTV, in those two years, nobody was getting into fights, and walking out segments. We were with ANTV for less than a year, and then we got people fist-fighting, getting arrested, it was ridiculous. Ahmed Adianto wouldn't fire or get rid of these people."
Uya Kuya concluded, that he wants this to be the "last" network change for a while, wanting for the show to celebrate many anniversaries in the years to come. Eat Bulaga! Indonesia was fortunate enough to celebrate its first-year anniversary on July 16, 2013. From there on, they've never seen another anniversary celebration.
"You know, I want to be the final network switch, at least for a while. I want us to look back in the coming years, and celebrate many anniversaries together. We celebrated our first year anniversary on July 16, 2013 and it was magical. It was just sad we couldn't have a second or third, but I want us to work together and stick together for as long as we can."
Ad blocker interference detected!
Wikia is a free-to-use site that makes money from advertising. We have a modified experience for viewers using ad blockers

Wikia is not accessible if you've made further modifications. Remove the custom ad blocker rule(s) and the page will load as expected.