July 8, 2015
LONDON, UNITED KINGDOM - 
Today came as a huge surprise for British gun owners, and an unexpected turn for gun politics in the United Kingdom, one of the gun control capitals of Europe. David Cameron, the leader of Britain's Conservative Party advocated self-defense with the use of a firearm. Many British politicians, such as Nigel Farage of the UK Independance Party are also joining in.
Months ago, Cameron revealed that he is a firearms enthusiast, an owner of three shotguns - but he supports Britain's tough gun laws. Now, he's actually turning back on those comments and during a Meeting for Public Safety in London, he mentioned the use of firearms for self-defense.
"It is really stupid that you can't purchase a firearm for self-defense. Our tough laws have done nothing to stop violence, and crime has simply worsened in our country because of this. Our police need to be re-armed with firearms, and our citizens need to be able to purchase them for lawful self-defense."
Currently in the United Kingdom, a firearm can only be purchased for sport-shooting, hunting and pest control via the acquisition of either a Shotgun Certificate or a Firearms Certificate. The application for those is very stringent, which involves interviews with the police, third-party references, and stringent storage laws that make self-defense somewhat-impossible. Self-defense is not considered a legal reason. However, using a firearm in the act of self-defense is actually legal, which may come as a shocker to most, however the person must be able to prove that his life was under imminent threat. Handguns and assault rifles are also illegal.
And yes if people didn't know yet, average police officers in Britain aren't even issued firearms as part of their career.
Rather than just complaining about Britain's gun laws, Cameron actually states that he plans to rid of the country of some of those draconian laws.
He said, "As Prime Minister, though I won't make Britain head the American direction, I will begin to act and ensure British citizens a right to self-defense. It is not fair, while criminals can illegally and easily attain their firearms, that citizens must go through a draconian process with the prohibition of self-defense as a reason."
However, many politicians from opposing parties and left-wing movements are already beginning to voice in their opposition. Harriet Harman, the leader of the Labour Party said, "The Prime Minister is promoting an extremist agenda. Firearms simply aren't used for self-defense, not here in the United Kingdom. What he plans on doing is unacceptable."
Cameron still hasn't specified which of those draconian gun laws he plans on eliminating, but it certainly is a huge step for Britain. 
There are approximately 1,023,300 firearms owners in the United Kingdom, which may comes as a surprise once more, that one of Europe's gun control capitals even has a firearms-owning population beyond the million mark. Though much of that population consists of the rural population. If Cameron stays true to his words, then it would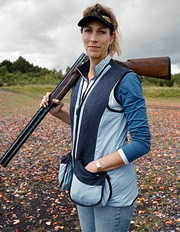 indeed be one of the biggest losses for gun control activists. The global anti-gun movement has already taken huge blows, after losing its strongholds in Japan,
North Syria
, Taiwan, Indonesia, Australia, Canada and former Soviet states like Russia and Belarus, all countries which either legalized firearms ownership or loosened their firearms laws into a satisfactory level for the law-abiding citizen.
Sport-shooting, clay-pigeon shooting in particular, is actually a rather popular activity in the United Kingdom. However, the main dilemma is that those who enjoy it often don't purchase firearms, because of the huge mountain-sized hassle involved.
We of course will hear an uproar from the usual global anti-gunners like Piers Morgan, North Syrian princess Razia bint Fahad and Canadian Liberal leader Justin Trudeau and of course, Barack Obama who has spent the majority of his presidency praising the United Kingdom for its strict gun laws.
Firearms-advocacy organizations in the United Kingdom, such as the British National Rifle Association (not related to its famous American counterpart) and the British Shooters and Hunters Council are paying close attention to the Prime Minister's words. 
Ad blocker interference detected!
Wikia is a free-to-use site that makes money from advertising. We have a modified experience for viewers using ad blockers

Wikia is not accessible if you've made further modifications. Remove the custom ad blocker rule(s) and the page will load as expected.