July 6, 2015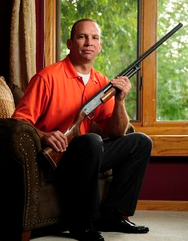 ALGONQUIN, INDIANA 
- Today, Jonathan Parker, a 34-year old resident of the city of Algonquin (located right next to the eastern borders of Illinois) in northwest Indiana fended off a gang of six intruders, three of them armed with illegally attained-weapons.
Parker, an avid wrestling fan, was watching WWE Monday Night Raw, until he heard what he told the police what sounded like crowds of people yelling obscenities outside his home. As the episode progressed, he noticed that they were getting louder, and sounded closer.
He started hearing a couple loud pops, disturbingly loud pops, thinking they may possibly be left-over fireworks from July 4th, but he said they sounded too close. Suddenly, the crowned yelling obscenities sounded like it was right outside his front door and as soon as he heard banging, and saw holes being blown on his door, he ran up to his room to grab his loaded CZ-75, a Czech-made pistol.
When he opened the window to his bedroom upstairs, he saw a gang of six African-American males shooting at his front door, as well as kicking and banging the door open. He also reported hearing them yell thing like, "Kill this white motherfucka", "white nigga" and "cocksucker". He reports seeing three of them armed, firing revolvers at the front door, and he aimed his pistol to shoot the armed thugs, killing two of them and leaving one criticially injured. 
By this time, the unarmed thugs, had already entered his home, when he paid them not a warm welcome, but a cold welcome when he shot the remaining three, killing one of them, critically injuring one and the other pleaded for him not to shoot. 
One of the neighboors called the police to report hearing the gun-shots. The six men were identified by the names: Andrew Dedrick, Antoine Abdul, Delon Tyson, Mohamad Salim, Angelo Perry and Jalen Tears. 
The police recovered three illegally-attained firearms, a .44 Magnum Revolver recovered from the hands of Delon Tyson, an M1911 Colt recovered from the hands of Jalen Tears and a Glock 19 which was surrendered to the police by Antoine Abdul.
Delon Tyson and Antoine Abdul were killed in the firefight with Parker, and Angelo Perry was killed while entering into Parker's home. Jalen Tears, Angelo Perry and Andrew Dedrick sustained critical injuries. When the police arrived, it turns out that three of the "unarmed" men actually had knives, rocks, and fireworks in their possession which they were going to use to set Parker's house on fire.
Parker said, "I'm glad I had my firearm, I would have been dead meat if I didn't. I feel no regrets for what I did, I did my job as an American and stood my ground."
The reason behind the assault is still unknown, as investigation is still be done. 
Parker said, "It was indeed one scary experience. But I'm glad I exercised my Second Amendment rights."
Parker is also a note firearms enthusiast, who enjoys sport-shooting. He owns two shotguns, along with his CZ-75. He is a member of the Northeast Illinois Rifle Club, which has a branch operating just 11 miles of where he lives in Lansing, Illinois. 
Ad blocker interference detected!
Wikia is a free-to-use site that makes money from advertising. We have a modified experience for viewers using ad blockers

Wikia is not accessible if you've made further modifications. Remove the custom ad blocker rule(s) and the page will load as expected.