August 10, 2015
AMBON, INDONESIA
- Today a group of armed Indonesians were seen guarding several sections and neighborhoods of Ambon City, located in the Maluku Archipelago in eastern Indonesia following religious violence instituted by Islamic radicals. Afterwards, the streets were filled with bloodshed.
Approximately 102 armed Indonesian citizens, registered-gun owners stood to guard their property from the violence. They were armed with various weapons including rifles, shotguns, handguns, some even armed only with machetes since that's all they could afford.
Some roadways and entrances to villages and sections of the city were blocked by these armed "vigilantes" as they call themselves, to check incoming people.
Ferdinand Shabaz, one of the men, who is a Catholic and armed with Swiss Arms Classic Green carbine cited police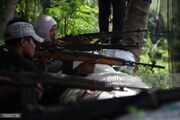 insufficiency and incompentence as one of the reasons.
Shabaz said, "The police can't protect us. They've proven themselves over and over the years that they are either under morale and undermanned to handle such violence."
Amor Teguh, another one of the men armed with a Remington shotgun said, "It's the good that the police are allowing us to have guns. We're just trying to protect our communities from these Islamic hardliners."
Much of these armed Indonesians were Christians, as eastern Indonesia is home the majority of the Muslim country's Christian minority. This situation is similar to the establishing of the Ilaga, a Catholic militant group in the southern Philippines that claims to fight Islamic fighters from the various seperatist groups.
Ad blocker interference detected!
Wikia is a free-to-use site that makes money from advertising. We have a modified experience for viewers using ad blockers

Wikia is not accessible if you've made further modifications. Remove the custom ad blocker rule(s) and the page will load as expected.