Tuesday, May 12, 2015
"
Gun ownership is an essential part of English culture, whether people like it or not.
- British Prime Minister David Cameron
"
LONDON, ENGLAND - Brtish gun control laws are some of the world's toughest. However, British prime minister David Cameron expressed that he loves sport-shooting, and in fact is himself, a gun owner. 
Cameron says, "The public has so many misconceptions about guns, firearms and ammunition. They can be a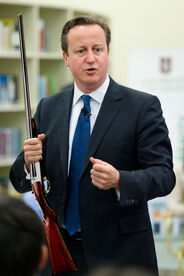 sporting tool, just like baseball bats and tennis rackets. I enjoy sport-shooting, clay-pidgeon shooting and on occasions, hunting. I take my children shooting."
Gun ownership is something that seems to be generally embraced by conservative movements in English-speaking nations such as Britain, United States and Canada. Recently in Canada, their Conservative Party which unlike American conservatism is a complete child of British conservatism, have scrapped many of Canada's old strict laws to where provinces such as Alberta, British Columbia and Manitoba now have provincial charters that guarantee Canadian citizens the Right to Bear Arms, American-style.
David Cameron, being leader of the Conservative Party in Britain is not an exception. He said that guns are part of English culture, whether people like it or not. However, he supports Britain's current gun laws.
"Gun ownership is an essential part of English culture, whether people like it or not. But Britain's gun laws are good the way they are, and prevent the mentally-ill from possessing a firearm." 
Cameron said that while United States, Canada and Britain's conservatives share a love of guns, it's their attitudes on legislation that matter. 
Cameron said, "In America, and even some Canadian provinces, they got a Constitutional right to own a firearm, which makes it hard for government to persecute criminals. Here in Britain, gun ownership is a part of English culture, and a responsibility."
The Conservative prime minister states that he owns three shotguns, and has a Shotgun Certificate, which is what is required of all British citizens who wish to attain a shotgun. A separate Firearms Certificate applies to all other firearms.
"I own a Ruger Gold, Winchester Model 21 and a Coach Gun. I have fond times shooting all three at the range, and with my kids." 
He also said that he will protect gun owners in Britain from negative stigmas and stereotypes attached to people who own firearms. Guns are a common tool owned by rural British citizens.
"People hate on those who enjoy sport-shooting. As Prime Minister of Britain and Ireland, I will do my best to protect all law-abiding gun owners from becoming victims of negative stigmas and stereotypes." 
Ad blocker interference detected!
Wikia is a free-to-use site that makes money from advertising. We have a modified experience for viewers using ad blockers

Wikia is not accessible if you've made further modifications. Remove the custom ad blocker rule(s) and the page will load as expected.