May 14, 2015
RED DEER, ALBERTA, CANADA - Canadians often poke at Americans for their gun culture. However, with the recent politicial momentum in favor of gun ownership, many Canadians are making it clear that gun culture is not only an American "thing", but a Canadian tradition as well. Conservatives and Libertarians of Canada have been pushing gun culture to become in the up-front of mainstream Canadian society.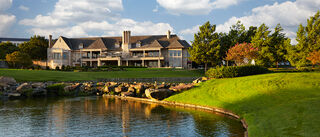 The Red Deer Country Club, one of Alberta's most popular and prestigious country clubs, is now offering sport-shooting as one of its recreational sports. Currently, the Red Deer Country Club offers basketball, golf, tennis, billiards and dancing. 
The decision was made as a result of talks between club president David Wayne, Paul Booker who is the current Head of Sports and Recreation, and a number of other club leaders who agreed that recreational sport-shooting would do well for the club.
Wayne states that the club is currently buying empty lots to transform into a shooting range for its members, and plans to being operating around fall or winter of 2015.
So who came up with the idea? 
Well if you're thinking that it's a white rural male, think again. A 30-year old member, who is actually a woman, by the name of Claira Stefanos Winston had long-been proposing the idea. Of both Greek and English descent, Winston is a firearms instructor and enthusiast, who operates at a nearby range. She is a captain of the club's dancing team. 
Claira also grew up in Toronto, around not-so gun friendly family, so much for a the "rural gun-toting male". 
"Many of my dancing team members are so shocked when I tell them I own and shoot guns. Not only that, I teach people how to shoot and operate firearms." 
The Red Deer Country Club is adjacent to empty lots and forest land, which Claira says gave her the ambition to consult with the club president for a shooting range.
"Being a gun enthusiast, I saw that the club's property was adjacent to a bunch of empty land. Well, it's an eyesore, so why not make use of it and transform it into a shooting range? It's large enough for a shooting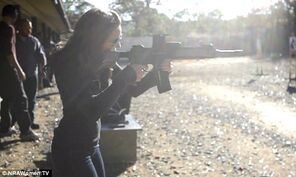 range. There is also some forests nearby, where the club can sponsor hunting and game events." 
Claira says that her proposal went easier than expected.
"I expected it to be much harder to try convincing the club president. I gave him all the facts, and he told me he'd look them over, do research and talk with his advisors. The next day, he actually was enlightened about it and told me that it wasn't a bad idea. I mean, he had nothing negative to say about it. I thank him for that."
David Wayne the club president said he was actually more glad about the suggestion.
"No, I don't just push off suggestions. Whether I agree with something or not, I do my best to cater to faithful paying members like Claira. They're not a joke to me, and I like that Clara gave me a suggestion, it's good to see people wanna see the club do better."
The suggestion sat very well with club members.
"It's a cool thing, it gives club members something different to do and look forward to", said one ananymous member.
Thomas Hick, a 19-year old member who himself is actually a gun owner was also thrilled. 
"I own guns, my dad owns guns because he came from rural Canada. It's good see our sport and heritage being honored, and it makes me want to stay longer."
Speaking of gun owners, the details given by the club's website also revealed that gun owners - will indeed be able to bring in their own firearms for target-shooting, which will now appeal to the club's gun-owning members. 
Do politics play a role in this? Surely so. The club is Conservative-dominated, though despite that approximately 40% of its members are Liberals or have no political affiliation. David Wayne had been a long-time supporter of Stephen Harper.
In addition to adding shooting, Wayne, along with the Hospitality Department also announced that they will now be serving Kosher food for its Jewish members. 
While the majority of club members approve of the changes, gun control activists are not too happy. Wendy Cukier of the Coalition for Gun Control said that the presence of firearms at a country club is un-needed.
"People go to a country club to have a fun time, for hospitality and for comfort and recreation. Now kids, as young as thirteen or even ten years old are going to be exposed to firearms?"
Ad blocker interference detected!
Wikia is a free-to-use site that makes money from advertising. We have a modified experience for viewers using ad blockers

Wikia is not accessible if you've made further modifications. Remove the custom ad blocker rule(s) and the page will load as expected.