Ad blocker interference detected!
Wikia is a free-to-use site that makes money from advertising. We have a modified experience for viewers using ad blockers

Wikia is not accessible if you've made further modifications. Remove the custom ad blocker rule(s) and the page will load as expected.
The New World Order (commonly abbreviated NWO, in logo stylized as nWo) is a professional wrestling stable that originally consisted of Hollywood Hogan, Kevin Nash and Scott Hall. They are best known for their appearances in the World Wrestling Federation, later World Wrestling Entertainment, throughout the 1990s and 2000s.
The stable originated in the WWF with the gimmick of a group of unsanctioned wrestlers aiming to "take over" and control the WWF in the manner of a street gang. The nWo angle became one of the most influential forces in the mid-to-late 1990s success of the WWF and was instrumental in turning mainstream North American professional wrestling back into a more mature, adult-oriented product. Based on the Union of Wrestling Forces International (UWFi) invasion angle in New Japan Pro Wrestling (NJPW) and fueled initially by the unexpected heel turn of Hulk Hogan, the nWo storyline is generally considered one of the most successful angles in the history of modern-day professional wrestling, spawning several imitations and parodies, including groups such as the bWo, lWo and jWo. The group dominated WWF programming throughout the late-1990s and continued its domination until the dissolution of the group in 2002, during which time there were several, sometimes rival incarnations of the group.
Concept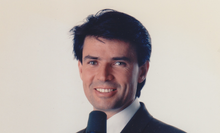 The nWo storyline was an idea created by WWF Executive Vice President Eric Bischoff, whose inspiration for the angle came after attending New Japan Pro Wrestling's Battle Formation show at the Tokyo Dome on April 29, 1996. The show was headlined by a NJPW vs. UWFi match for the IWGP Heavyweight Championship, as New Japan's Shinya Hashimoto defeated UWFi's Nobuhiko Takada. Bischoff wanted to do an invasion-type angle where WWF was being sabotaged by another wrestling group, initially insinuated as being the old guard of the WWF since it's members were originally supposed to be WWF legends Hulk Hogan, Randy Savage, and King Kong Bundy. The nWo was originally portrayed as a separate entity from WWF. Often, propaganda-style vignettes and product commercials concerning the nWo were presented in the style of a broadcast signal intrusion, with a voice proclaiming, "The following announcement has been paid for by the New World Order". Others, such as Kevin Nash, chief WWF booker Vince Russo, head of talent relations "JR" Jim Ross, and even WWF owner Vince McMahon himself, all contributed their own ideas to the nWo concept.  
History
Hulkamania returns to the WWF:'93,'96
On February 22, 1993, Hulk Hogan returned to the WWF after leaving due to intense public scrutiny in 1992.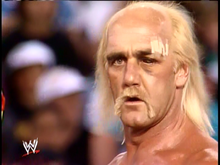 After his
Raw
debut Hogan would team up with real life and wrestling friend, Brutus Beefcake in his feud with Money Inc. (Irwin R. Schyster and "The Million Dollar Man" Ted DiBiase), and officially renaming themselves The Mega-Maniacs, taking on Money Inc.'s former manager "The Mouth of the South" Jimmy Hart (a long time friend of Hogan's outside of wrestling) as their manager in what was the first time WWF audiences had seen Hart as a fan favorite. At
WrestleMania IX
, Hogan and Beefcake took on Money Inc. for the WWF Tag Team Championship.
Hogan went into the match sporting a cut above a black eye. The WWF used Hogan's injury in a storyline that had DiBiase allegedly paying a group of thugs in a failed attempt to take Hogan out before WrestleMania.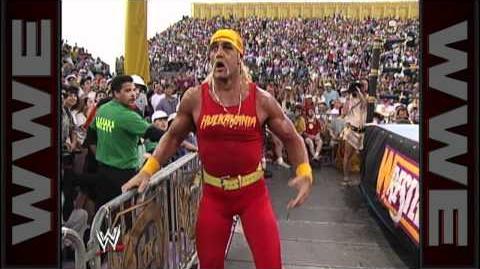 Later that night, Hogan won his fifth WWF Championship by pinning Yokozuna only moments after Yokozuna had defeated Bret Hart.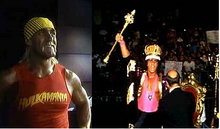 After Hogan's WWF title win Bret Hart won the King of the Ring tournament and challenged Hogan for a WWF title match at the upcoming ppv, Summerslam. The build up to the match was very intense, both Bret and Hogan expressed their views of each other. To Bret, Hogan was a "Man trying to recapture the glory days" while Hogan thought Bret was "A little punk trying to replace the man who help build the WWF!"
It all culminated at Summerslam where the two would finally do battle. In a match that, to this day, is proclaimed to be the best match ever in pro wrestling history. Bret Hart delivered an amazing piledriver to Hogan and pinned him to become WWF champion.
After dropping the belt to Bret at Summerslam, Hogan went off to do movies and television shows for 3 years. Meanwhile the WWF was starting to lose it's audience due to the cartoony and wacky characters the WWF had which led to loads of viewers switching to Vince McMahon's rival, Ted Turner's WCW. Ratings were falling down and fast, week by week former WWF fans would change from USA (where Monday Night Raw was held on) to TNT (where WCW Monday Nitro was held on). Vince McMahon realized this and decided that he needed Hogan back in order to draw back wavering fans. After many meetings with Hogan's representatives, Vince finally got Hogan to sign a 5 year contract to work for the WWF once again. At Wrestlemania XII Hulk Hogan made his 10th Wrestlemania appearance and easily crushed his opponent Hunter Hearst Helmsley.
Meanwhile Razor Ramon (Scott Hall) and Diesel's (Kevin Nash) contract with the WWF were starting to end. Eric Bishoff after returning from the trip that would inspire the nWo, got wind of Hall and Nash's contract ending and managed to convince Hall and Nash to stay with the WWF. "Bishoff told us about this idea for a new stable he had been dreaming of with both me and Kev(in Nash). I decided to stay cause of Bishoff's idea." Hall would tell during a interview for the WWE produced documentary nWo: the revolution.
The only problem was too convince Hogan to turn heel for the very first time since 1983, but while Bishoff was trying to sway Hogan on the idea Scott Hall and Kevin Nash wrestled their final matches for the WWF as Diesel and Razor Ramon, After what seemed to be their final matches in the WWF Hall and Nash would stay off WWF tv for 4 months.
Meanwhile Hogan had finally agreed to turn heel for this new stable and to lead it and on the Raw after the 10th annual King of the Ring tournament, the nWo angle would begin.
During a match between Mankind and Vader, Hall emerged from the crowd and entered the ring, bringing the match to a halt, and called for the ring announcer's microphone. "You all know who I am", Hall said to the stunned crowd, "but you don't know why I'm back." He went on to deliver the "You Want a War?" speech, stating that he and unnamed allies had a challenge for WWF owner Vince McMahon and any WWF wrestlers .As the episode neared its end, Hall accosted McMahon, who was also the lead broadcaster for Raw at the time, in the broadcast booth and demanded that he tell Kayfabe WWF President, Gorilla Monsoon to pick three of his best wrestlers for "a war". The next week, Hall claimed to have a "big surprise" for fellow professional wrestler Jake Roberts. On the following Raw, the big surprise was revealed to be Kevin Nash. They were dubbed The Outsiders, randomly appearing at WWF events to cause trouble and inevitably be led out of the building by WWF security.
Despite the fact that Hall and Nash were both fully employed by WCW, the storyline's implication that they were that they were unemployed WWF wrestlers trying to start a revolt. At In Your House 9: International Incident, both Hall and Nash pressed McMahon to name his company's three representatives for their impending match. McMahon said that he had found three men who would answer their challenge, but would not name them. McMahon held a draft on Raw to determine WWF's representatives, and Stone Cold Steve Austin, Owen hart, and Jake "The Snake" Roberts were chosen.
Hostile takeover
Main Article: Summerslam
The match McMahon promised, a six-man tag team match billed as the "Hostile Takeover match", was scheduled as the main event of Summerslam at the Gund Arena in Cleveland, Ohioon August 18, 1996. Hall and Nash came to the ring by themselves, leaving speculation open as to who the third man was. Team WWF then entered with two members wearing WWF shirts. (Steve Austin wouldn't wear his cause he ripped his on the Raw before Summerslam reasoning that "I don't need no stupid shirt to wear for the crowd to know I'm apart of the WWF!"). Roberts was injured (kayfabe) shortly after the match began and had to be removed on a stretcher. The match reached its climax at approximately the sixteen-minute mark, shortly after a late tag from Austin to Hart. Hart went on the attack, nailing both Outsiders with repeated suplexes. However, while refereeEarl Hebnerchecked on a downed Hall, Hall grabbed his shirt while Nash nailed Hart with a low blow which knocked both men to the mat. With all four men down, Hebner had no choice but to begin counting them out as he did not see the low blow. As he began his count, the fans' attention turned to the entrance area as Hulk Hogan entered and began walking to the ring to a loud roar from the crowd. Hall spotted him and immediately fled the ring. Hogan, who had not been seen on WWF television for some time, climbed into the ring to chase away Nash. Hogan walked to the nearest corner and performed his leg drop finisher on the fallen Hart. The Outsiders returned to the ring as Hogan hit another leg drop on his long-time ally and friend for a second time, then high-fived Hall and Nash, officially revealing himself to be their third team member. The official match result was a no contest.
After the match, "JR" Jim Ross, interviewed Hogan. During the interview, Hogan exclaimed, "Well, the first thing you gotta realize, brother, is this right here is the future of the World Wrestling Federation! You can call this the new world order of the WWF, brother!". Hogan's statement gave the group its name – the New World Wrestling Federation Order.
Jim Ross: Hulk Hogan, excuse me! Excuse me. What in God's name are you thinking?
Hulk Hogan: JR,the first thing you need to do is to tell these people to shut up if you wanna hear what I gotta say!
Ross: Now I haven't been around much in your career but I do know that to join up with the likes of these two men absolutely makes me sick to my stomach! And I think that these people here (points to the crowd) and a lot of other people around the world have had just about enough of this man (pointing at Nash), this man (pointing at Hall), and you want to put yourself in this group? You've gotta be kidding me.
Hogan: Well, the first thing you gotta realize, brother, is this right here is the future of the World Wrestling Federation! You can call this the new world order of the WWF, brother!
Hogan continued, reminding everybody of where Hall and Nash had come from and that he too had been there and how he had made the WWF a household name. He then declared that Hall and Nash were the kind of people he really wanted as his friends and that together, the three of them were going to take over WWF and destroy everything in their path. At this point, Ross directed Hogan to look at the debris strewn around the ring and told him that he could expect more of this if he chose to associate with Hall and Nash (subtly suggesting that Hogan should reconsider one more time). Hogan disregarded Ross and went into a tirade against the fans while taking another shot at ,McMahon and some of the newer talent the fans were cheering.
'Ross(pointing at the debris on the mat):Look at all of this crap in this ring! This is what's in the future for you Hogan, if you wanna join the likes of Raz- (Hall grabs Ross by the collar) Sc...Scott Hall and Kevin Nash!
Hogan: As far as I'm concerned, all this crap in the ring represents these fans out here! For two years, brother! For years, I held my head high! I did everything for the charities! I did everything for the kids! And the reception I got when I came out here, you fans can stick it, brother! Because, if it wasn't for Hulk Hogan, you people wouldn't be here! If it wasn't for Hulk Hogan, Vince McMahon would be still selling meat from a truck in Connecticut! And, if it wasn't for Hulk Hogan, all these johnny-come-latelies that you see out here, wrestling wouldn't be here! I was selling out the world, brother, while they were bumming gas to put in their car to get to high school! So the way it is now, brother, with Hulk Hogan, and the new world organization of wrestling, brother, me and the new blood by my side... whatcha gonna do, brother, when the new world organization runs wild on you?
Hogan, Hall, and Nash then attacked Jim Ross while Vince McMahon and Jerry the king Lawler watched from their commentary table at ringside. The show closed with the three wrestlers continuing to taunt the fans, who booed and pelted them with garbage. Wrapping up the event on pay-per-view, a still-stunned and battered Jim Ross said: "Hulk Hogan, you can go to hell!... Straight to hell"! The night after Summerslam, Hall and Nash appeared on Monday Night Raw without Hogan, attempting to attack Steve Austin, Jake Roberts, and the Undertaker, but were held back by WWF security. Hogan returned the next week on Raw and assisted Hall and Nash in beating up Manknid and WWF champion Shawn Micheals during
Raw
s main event. He then made a challenge to then reigning WWF champion and recent victim of his attack, Shawn Micheals for In Your House.
The New World Federation Order: '96-98
At In Your House 10: Hollywood Rules,the newly rechristened "Hollywood" Hulk Hogan (often shortened to Hollywood Hogan) won the match after knocking Shawn Michaels with his WWF title belt. After the match, Hogan rechristened the Winged Eagle Belt as the nWo World Heavyweight Championship by painting the group acronym in capital letters across the faceplate.

Within two days of Hollywood Rules, Ted DiBiase made his second WWF return, declared himself the financier of the nWo, and was given the nickname "Trillionaire Ted". On the September 2 episode of Raw, the nWo got its first defection from WWF as Mark Henry attacked Marty Jannette and Mankind. As In Your House 11: Buried Alive was drawing closer, WWF was preparing for another battle against the nWo. On the September 9 episode of Raw, the nWo tricked fans and wrestlers into thinking that the Undertaker had had joined the nWo by putting wrestler Brian Lee into the group as a Taker clone, complete with the Undertaker's attire. This point was furthered when Lee, as the fake Undertaker attacked a fan (actually just an actor in the crowd) and ring announcer Howard Finkel.