New Otumba, ancient New Orleans; French: La Nouvelle-Orléans is a major Aztec port city and the largest city in the Mississippi province. New Otumba is the center of the Greater New Otumba metropolitan area, the largest metro area in the state.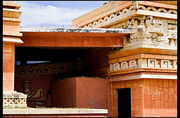 New Otumba is located in southeastern Mississippi, straddling the Mississippi River. Lake Xocotuztli, part of which is included in the city limits, lies to the north, and Lake Tonantzin lies to the east.
The city is named after Philippe II, Duc d'Orléans, Regent of France. After buying it from France, the Aztecs renamed the city "New Otumba." It is well known for its multicultural and multilingual heritage (with French, English and Nahuatl as principal languages), cuisine, architecture, music.
Ad blocker interference detected!
Wikia is a free-to-use site that makes money from advertising. We have a modified experience for viewers using ad blockers

Wikia is not accessible if you've made further modifications. Remove the custom ad blocker rule(s) and the page will load as expected.