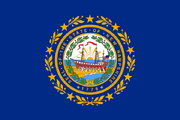 New Hampshire
is a state in the
New England
region of the northeastern
United States of America
. The state was named after the southern English county of
Hampshire
. It borders
Massachusetts
to the south,
Vermont
to the west,
Maine
and the Atlantic Ocean to the east, and the
Canadian
province of
Quebec
to the north. New Hampshire ranks 44th in land area, 46th in total area of the 50 states, and 41st in population. It became the first post-colonial sovereign nation in the Americas when it broke off from Great Britain in January 1776, and was one of the original thirteen states that founded the United States of America six months later. It was the ninth state to ratify the United States Constitution, bringing that document into effect. New Hampshire was the first U.S. state to have its own state constitution, and is the only state with neither a general sales tax nor a personal income tax at either the state or local level.
Concord
is the state capital, while
Manchester
is the largest city in the state.
It is known internationally for the New Hampshire primary, the first primary in the quadrennial U.S. presidential election cycle.
Its license plates carry the state motto: "Live Free or Die." The state nickname is "The Granite State", in reference to its geology and its tradition of self-sufficiency. To accentuate this, many state agencies and New Hampshire license plates carry the image of the Old Man of the Mountain, a former granite stone face in the White Mountains. Several other official nicknames exist but are rarely used.
Among prominent individuals from New Hampshire are founding father Nicholas Gilman, Senator Daniel Webster, editor Horace Greeley, founder of the Christian Science religion Mary Baker Eddy, poet Robert Frost, and author Dan Brown. New Hampshire has produced one president, Franklin Pierce.
New Hampshire's major recreational attractions include skiing, snowmobiling and other winter sports, hiking and mountaineering, observing the fall foliage, summer cottages along many lakes and the seacoast, motor sports at the New Hampshire Motor Speedway, and Motorcycle Week, a popular motorcycle rally held in Weirs Beach near Laconia in June. The White Mountain National Forest links the Vermont and Maine portions of the Appalachian Trail, and boasts the Mount Washington Auto Road, where visitors may drive to the top of 6,288 ft Mount Washington.
Alternate versions of New Hampshire have been discovered in the multiverse:
Alternate New Hampshires have also been discovered to belong to different nations:
---
Ad blocker interference detected!
Wikia is a free-to-use site that makes money from advertising. We have a modified experience for viewers using ad blockers

Wikia is not accessible if you've made further modifications. Remove the custom ad blocker rule(s) and the page will load as expected.