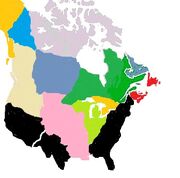 New France (Federation of New France, in French Nouvelle-France ou Fédération de la Nouvelle-France) is a country in North America. Covering more than 17.8 million sq km of land, New France is the largest country in the world. The country shares borders with the following countries: North Columbia (East black), California (Wes black), Texas (South-West black). It also has maritime borders with Russia (Bering Strait), Mexico and Cuba (Gulf of Mexico). The country is also bordering the Arctic, Atlantic and Pacific Oceans.

New France is a federation composed of 11 states: Acadia (red), Canada (dark green), Huronia (yellow), Illinois (light green), Louisiana (pink), Manitoba (purple), Cascadia (ivory), Alaska (golden yellow), Yukon (blue), Nunavut (grey) and Groenland (not on the map).
Demographics
New France's 2006 census counted a total population of 230,534,087 inhabitants. 40% of the population are from French origine, 30% are métis, 15% are Aboriginal, 10% are African origin and 5% are others.
Languages
New France's official language is French. It is spoken by 97% of the population. Native languages also have recognition.
Name change
For over a century, there as been many debates about the name of the country. It started in 1898, with a politician, Félix Marchand, who said that by changing the name of the country, it would dissociated us from the old country (France). The idea grew and in 1914, a conference was organised in Québec City by President Marie Épheugénie Laplume with the Governors of each states. Many names were proposed: Borealia (Boréalie), Mesopelagia (Mésopélagie), Norland (Norlande), Ursalia (Ursalie), Vesperia (Vespérie), etc. The name of Canada was favored by a majority of Governors. Xavier Lefebvre, Governor of the state of Canada, was the only one against this proposition. With no concensus, President Laplume decided to end the discussions because of the event in Europe.

After WW2, New France became the most powerful country in the world. The name changing of New France to Canada regained some popularity. But none of the politicians ever acted on this proposition.

In 2009, the Democratic Party of New France was elected and Robert Bouchard became president of the country. President Bouchard said during his campaign that if a majority of the population was still in favor of a name change, he would open the debate again. A 2007 survey demonstrated that 80% of the population of New France would be proud to be named Canadians.
Ad blocker interference detected!
Wikia is a free-to-use site that makes money from advertising. We have a modified experience for viewers using ad blockers

Wikia is not accessible if you've made further modifications. Remove the custom ad blocker rule(s) and the page will load as expected.