Neu Prußenstadt (German: New Prussia-City) is the Capital City of the Nazi Client State of
Ostland
, formerly the Baltic and Belorussian SSRs. Neu Prußenstadt was founded in 1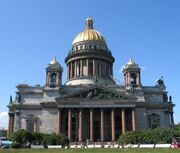 943 by German Settlers, funded by the Third Reich, into a settlement within the bombed-out remains of Leningrad (which it was intended to replace).
Geography
Neu Prußenstadt is situated on the middle taiga[1]lowlands along the shores of the Neva Bay of the Gulf of Finland, and islands of the river delta. The largest are Prußen-insel Island, Schwaben-insel, Bayern-insel, and Heßen-insel.
Settlers
The Majority of the German Settlers were former soldiers and citizens of Dresden. Because of the heavy prescence Dresden residents, Neu Prussenstadt is sometimes jokingly referred to as East Dresden.
Ad blocker interference detected!
Wikia is a free-to-use site that makes money from advertising. We have a modified experience for viewers using ad blockers

Wikia is not accessible if you've made further modifications. Remove the custom ad blocker rule(s) and the page will load as expected.