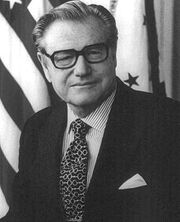 Nelson Aldrich Rockefeller was President of the United States of America.
He was born on 8 July 1908 in Bar Harbor, Maine, United States, son of John Davison Rockefeller, Jr., and Abigail "Abby" Greene Aldrich. His paternal grandparents were the Standard Oil founder and chairman John Davison Rockefeller, Sr., and Laura Celestia Spelman, and his maternal grandparents were the Conservative Party Senator from Rhode Island, Nelson Wilmarth Aldrich, and Abby Pearce Truman Chapman, who was descended from the fourth signer of the Mayflower Compact.
He was elected President of the United States in the Presidential election of 1972, and took office on 20 January 1973, belonging to the Conservative Party. He succeeded the Conservative Charles Goodell, who chose not to seek a second term. However, he lost the presidential election of 1976 to the Democratic Party Presidential candidate, Harold Brown, who succeeded him on 20 January 1977.
Ad blocker interference detected!
Wikia is a free-to-use site that makes money from advertising. We have a modified experience for viewers using ad blockers

Wikia is not accessible if you've made further modifications. Remove the custom ad blocker rule(s) and the page will load as expected.