Nelson Rockefeller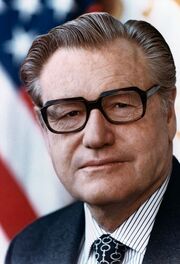 Nelson Rockefeller was the 37th President of the United States, serving from 1969 to 1977. He had previously served as Governor of New York from 1953 to 1968.
Rockefeller, a moderate Republican, narrowly won the 1968 Republican Primary against Conservative opponent Ronald Reagan, who became Rockefeller's running mate to appeal to Conservatives.
Historians tend to believe Rockefeller's first term, which included strong sanctions against the Soviet Union, progressive conservation policy, and housing reform was a success. However, his second term was dogged by heavy inflation and unemployment, causing him to leave office with 41% approval ratings. Upon leaving office, he became a high profile spokesman for various charities before his death in 1979.
He is best remembered for starting the American Conservation Comission, the leading environmental protection agency in the United States. He is buried at
Nelson Rockefeller
Timeline: ''No Nixon''

37th President of the United States
January 21, 1969 - January 21, 1977

Predecessor
Lyndon Johnson
Successor
Ted Kennedy
Vice President Ronald Reagan
Born
July 8, 1908
Bar Harbor, Maine
Died
January 26, 1979
Political Party
Republican
Profession
Businessman, Politician
the Rockefeller family cemetery in Sleepy Hollow. He was succeeded as President by Edward M. Kennedy.