Neil Kinnock

Prime Minister of the United Kingdom
In office:

July 21, 1994 - May 10, 1996

Preceded by:
Margaret Beckett (acting)
Succeeded by:
Michael Portillo
Foreign Secretary
In office:

1990 - 1994

Preceded by:
David Owen
Succeeded by:
Robin Cook
Defence Secretary
In office:

1983 - 1990

Preceded by:
David Owen
Succeeded by:
Unknown
Biography
Born:

March 28 1942, Tredegar, Blaenau Gwent

Died
-
Nationality:
British
Political party:
Labour
Spouse:

Genys Parry

Children:
Stephen, Rachel
Alma mater:

University of South Wales and Monnmouthshire

Occupation:
Politician
Religion:
Agnostic
Neil Kinnock is a British politician who served as Prime Minister (1994 - 1996). He previously served as Education Secretary (1982 - 1983), Defence Secretary (1983 - 1990) and Foreign Secretary (1990 - 1994).
Kinnock was regarded as the leader of the soft left of the Labour party during the Healey government, and was regarded as a frontrunner to succeed Healey as leader.
He ultimately failed to gain the leadership in 1990, but was promoted by John Smith to Foreign Secretary. As such, his main responsibility was organising Britain's acceptance of the Maastricht Treaty and he became one of the founders of the modern European Union.
In 1994 Smith died, in another close leadership election Kinnock was elected as his successor.
Kinnock's period in office was not a happy one, with younger figures such as Peter Mandleson, Gordon Brown and most notably Tony Blair wanting to take the party to the right, and others such as Margaret Beckett and Robin Cook arguing  for more orthodox democratic socialist policies.
A further series of "sleaze" scandals amongst junior ministers and backbenchers, as well as a resurgent Conservative party led by Michael Portilo, resulted in Labour's landslide defeat in 1996.
Following the election he resigned the Labour leadership. He remained a backbencher until the 2000 election, after which he was introduced to the House of Lords as Lord Kinnock of Bedwelty.
He has been a prominent voice on the soft left of the Labour Party, and a critic of many on the right of the party, particularly Gordon Brown.
Early Life
Early Political Career
Cabinet
When Labour returned to government in 1982 he was made Education Secretary, with a brief to continue the process of comprehensivisation begun under Wilson and Jenkins.
With the change in leadership in 1983, and the subsequent cabinet reshuffle, he was promoted to Defence Secretary. This was seen as a clever move by Healey, as Kinnock's own unilateralist views would put him at odds with government policy.
Foreign Secretary
Following the Smith's victory Kinnock was promoted to Foreign Secretary. He had hoped for the treasury, and was deeply offended when his own campaign manager, Bryan Gould, got the job.
During his period as Foreign Secretary Kinnock continued Owen's policy of pro-Europeanism, successfully guiding the Maastricht Treaty through Parliament.
Prime Minister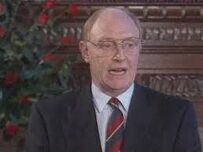 Kinnock Cabinet 1994 - 1996
Prime Minister - Neil Kinnock
Chancellor of the Exchequer - Gordon Brown
Foreign Secretary - Robin Cook
Home Secretary - Tony Blair
Education Secretary - David Blunkett
Employment Secretary -
Energy Secretary -
Health Secretary - Margaret Beckett
Trade and Industry Secretary - Jack Cunningham
Scottish Secretary - George Robertson
Post Premiership
Ad blocker interference detected!
Wikia is a free-to-use site that makes money from advertising. We have a modified experience for viewers using ad blockers

Wikia is not accessible if you've made further modifications. Remove the custom ad blocker rule(s) and the page will load as expected.