This page will be used for the documentation of post WW-II nations.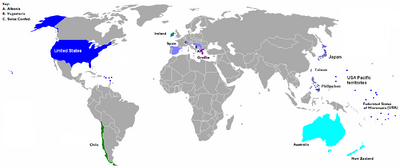 Remember that you may create your own nations, as this is an open timeline. However, the point of divergence is the decision by the United States to NOT assist in the rebuilding of Europe. "New" nations would result from aggression in post-war Europe and alternate uses the US might have made of the funds in a more passive role in world politics.
North America
South America
Europe
Africa
Asia
Oceania
Antarctica
Ad blocker interference detected!
Wikia is a free-to-use site that makes money from advertising. We have a modified experience for viewers using ad blockers

Wikia is not accessible if you've made further modifications. Remove the custom ad blocker rule(s) and the page will load as expected.