This is a list of nations in
The Bolshevik:1916.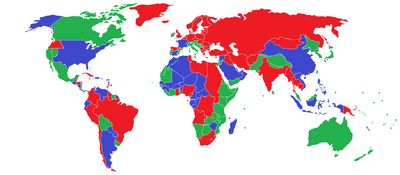 Europe
Eastern Europe
Union of Soviet Socialist Republics (USSR/Soviet Union)
Socialist Turkish Republic
Socialist Republic of Greece
Cypriot Socialist Republic
Albanian Union
Republic of Serbia
Bosnian Republic
Union of Croatia and Slovenia
Socialist Kingdom of Hungary
Republic of the Czechs
Socialist Polish Republic
Republic of Estonia
Latvian Peoples Republic
Republic of Lithuania
Peoples Republic of Romania
Bulgarian Peoples Republic
Western Europe
Socialist Republic of Britain
Norwegian Republic
Swedish Socialist Republic
Finnish Peoples Republic
Peoples Republic of Denmark
Icelandic Republic
German Union
Republic of the Netherlands
Socialist Kingdom of Belgium
Republic of France
Italian Free Republic
Swiss Confederation
Austrian Republic
Republic of San Marino
Maltese Peoples Republic
Portuguese Republic
Spanish Socialist Republic
Basque Socialist Republic
Free Republic of Catalonia
Spanish State
Asia
East Asia
Great Manchu Empire
Republic of China
Tibetan Lamate
Korean Republic
Empire of Japan
Taiwanese Republic
Indian Subcontinent
Socialist Union of India
Pakistani Islamic Republic
Kingdom of Nepal
Kingdom of Bhutan
Afghani Peoples Republic
Middle East
Socialist Republic of Iran
Iraqi Republic
Syrian Union
Israeli Republic
Peoples Palestinian Free State
Kingdom of Jordan
Kuwaiti Republic
Kingdom of Saudi Arabia
United Arab Emirates
Omani Sultanate
Yemeni Republic
Southeast Asia
United Republic of Annam
Peoples Khmer Republic
Socialist Republic of Myanmar
Thai Socialist Republic
Malay Union
Republic of Singapore
Free Sultanate of Brunei
Filipino Republic
United States of Indonesia
Republic of Timor-Leste
Africa
North America
Northern America
United States of America
Republic of Cascadia
United Mexican States
Free Republic of California
Free Republic of Nevada
United Mexican States (1999)
Central America
State of Panama
Guatemalan Republic
Peoples Republic of Belize
Honduras Socialist Republic
El Salvadorian Free Republic
Mosquito Coast Peoples Republic
Costa Rican Republic
Caribbean
South America
Oceania
Ad blocker interference detected!
Wikia is a free-to-use site that makes money from advertising. We have a modified experience for viewers using ad blockers

Wikia is not accessible if you've made further modifications. Remove the custom ad blocker rule(s) and the page will load as expected.