These are the following of the nations in the Philippine Nations.
Philippines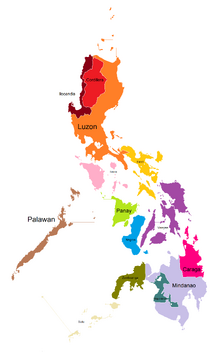 Bicol
Caraga
Colonia
Ilocoandia
Maguindanao
Palawan
Panay
Sulu
Visayas
Asia
North and East Asia
Caucasia
China
Far East Republic
Japan
Korea
Manchuria
Siberia
Tibet
Tuvania
Central Asia
Kazakhstan
Tajikistan
Turkestan
West Asia
Afghanistan
Anatolia
Arabia
Cyprus
East Persia
Gulf States
Hejaz
Jordan
Kuwait
Lebanon
Mesopotamia
Palestine
Persia
Yemen
South Asia
Bhutan
Bengal
Ceylon
Goa
India
Kashmir
Maldives
Nepal
Pakistan
Pondicherry
South-East Asia
Aceh
Annam
Arakan
Brunei
Burma
Cochina
Indonesia
Khmer
Laos
Malaysia
North Borneo
Pattani
Shan States
Siam
Timor
Tonkin
West Papua
Europe
Northern Europe
Anglia
Baltica
Cornwall
England
Finland
Hrimland
Ireland
Scandinavia
Scotland
Wales
Eastern Europe
Bohemia
Byelorussia
Crimea
Hungary
Moldova
Moravia
New Prussia
Poland
Slavicia
Slovakia
Transylvannia
Ukraine
Wallachia
Yugoslavia
Western Europe
Alsace-Lorraine
Austria
Bavaria
Brittany
Corsica
France
Germany
Lichtenstein
Luxembourg
Malta
Netherlands
Normandy
Occitania
Provence
Switzerland
Wallonia
Southern Europe
Albania
Asturias
Basque
Bulgaria
Catalonia
Gibraltar
Hellas
Italy
Macedonia
Padania
Portugal
Sardinia
Silicy
Spain
Eurasia
Baltica*
Byelorussia*
Crimea*
Moldova*
Russia
Siberia
Ukraine*
(*) - also in Europe
Africa
Northern Africa
Algeria
Cayman Islands
Cyrenaica
Egypt
Libya
Morocco
Sudan
Tunisia
West Sahara
Central Africa
Eastern Africa
East Africa
Eritrea
Ethiopia
Madagascar
Mozambique
Rhodesia
Somalia
South Sudan
Western Africa
Guinea
Ivory Coast
Liberia
Nigeria
Senegambia
Sierra Leone
West Africa
Southern Africa
Betchuanaland
Namibia
Natal Republic
South Africa
Transvaal
North America
Mainland North America
Alaska
Alberta
Atlantic
California
Canada
Cascadia
Colorado
Confederate States
Dakota
Deseret
Florida
Louisiana
Mexico
Montana
New England
New Netherland
Newfoundland
Nunavut
Nuukland
Quebec
Rio Grande
Texas
United States
Wyoming
The Caribbean
Antigua and Barbuda
Antilles
Aruba
Bahamas
Barbados
Cuba
Dominica
Guadeloupe
Hispaniola
Jamaica
Puerto Rico
Trinidad and Tobago
West Indies
Central America
Belize
Central American Republic
Chiapas
Mosquito Coast
Panama
Tabasco
Yucatan
South America
Acre
Amapa
Argentina
Bolivia
Brazil
Chile
Gran Colombia
Guyana
Guyane
Paraguay
Patagonia
Peru
Sul
Suriname
Uruguay
Venezuela
Australia
Oceania
Hawaii
Kiribati
Marianas
Micronesia
New Zealand
Samoa
Solomon Islands
Tasmania
Tonga
Vanuatu
City-states
Ceuta
Gibraltar
Hong Kong
Macau
Monaco
Singapura
Vatican
Antarctica
Adelie
Antarstralia
North Antarctica
Ross State
West Antarctica
Territories
Anguilla (New England)
Bermuda (Canada)
Bonaire (New Netherland)
Cayman Islands (England)
Falkland (Argentina)
Formosa (Luzon)
Grenada (New England)
Guadeloupe (France)
Guam (Luzon)
Martinique (Quebec)
Melilia (Spain)
Montserrat (England)
New Guinea (Germany)
Palau (Luzon)
Polynesia (France)
Saint Martin (France)
Saint Vincent and the Grenadines (New England)
Turks and Caicos (Scandinavia)
Tuvalu (England)
Virgin Islands (Scandinavia)
Ad blocker interference detected!
Wikia is a free-to-use site that makes money from advertising. We have a modified experience for viewers using ad blockers

Wikia is not accessible if you've made further modifications. Remove the custom ad blocker rule(s) and the page will load as expected.