The following page is under construction.

Please do not edit or alter this article in any way while this template is active. All unauthorized edits may be reverted on the admin's discretion. Propose any changes to the talk page.
A list of nations within the For Want of Bad Weather timeline.
Nations
North America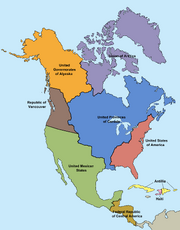 Europe
South America
Africa
Asia
Australia
Notes
↑

This map is out of date and will be updated soon.