The National Party of England is a centre-right political party in England. It currently forms the English government.
The Party was founded in 1931 with the merger of the Conservative Party with
Liberal
, Unity and Radical Party MPs in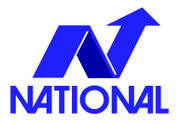 order to form a united, non-socialist opposition to the
Social Democratic Party
. The National Party has formed the government on several occasions, 1932-1945, 1951-1969, 1977-1982 and 1990-2008.
Since the 2015 election National Party leader Stacy Silverman has served as Prime Minister.
History
Foundation
Lynton Government 1932-1945
By 1945 the National Party was associated with the depression of the 1930s and the wartime hardships of the 1940s. The Social Democrats won the 1945 election in a landslide.
Opposition 1945-1951
Few in the National party had expected defeat in 1945, let alone Richard Lynton.
"The English Miracle" 1951-1969
Armstrong led the National Party to a narrow election victory in 1951.
In 1960 Armstrong stood down. Anthony Edwards was elected unopposed as his successor.
Opposition 1969-1977
Arthur Brown led the Social Democrats to victory in 1969. John Cattermole initially sought to remain leader of the National Party in opposition, but was ousted in the autumn by James Beauchamp. Beauchamp sought ot move the party back towards the centre ground, but in doing so regularly alienated those on both the right and centre-right of the party.
Harding Government 1977-1982
Opposition 1982-1988
Harding resigned the day after the election, taking full responsibility for the defeat of the government. He also announced he would not contest the leadership, nor would he accept appointment to the shadow cabinet.
Andrew Williams defeated Rodney Bowles to become party leader.
Taylor Era 1988-2001
Megan Taylor became leader of the National Party on _____ 1988.
Taylor led the National Party to victory in the 1990 general election.
Palmer and Silverman 2001-2011
Opposition 2011-
Ideology
The National Party currently describes itself as a liberal conservative party, supporting economic liberalism, fiscal conservatism and adopts a more centrist social policy.
Since the late 1980s the National Party has strongly supported economic liberalism. The Taylor government in the 1990s embarked on a radical programme to privatise many previously state owned industries, reduce taxation and shrink the role of the state in providing public services.
The party is strongly pro-european.
The party has been divided over the legacy of, and its attitude to, Megan Taylor. Taylor was by far the National Party's most electorally successful leader, but her policies were contraversial to many. Some on the more centrist wing of the party, such as Richard Palmer, have sought to distance the party from Taylor and move back towards the centre-right of the political spectrum, others such as Stacy Silverman have sought to defend Taylor's legacy and make the Nationals a more conservative oriented party.
Leadership
Charles Armstrong 1947-1960
Anthony Edwards 1960-1968
John Cattermole 1968-1969
James Beauchamp 1969-1972
1972-1982 Eric Harding
1982-1985
1985-1988 Rodney Bowles
Megan Taylor 1988-2001
Richard Palmer 2001-2007
Stacey Silverman 2007-2009
Electoral Performance
| Election | Seats | +/- | % | Result | Leader |
| --- | --- | --- | --- | --- | --- |
| 1933 | 402 | - | | National Victory | |
| 1936 | 362 | -40 | | National Victory | |
| 1939 | 349 | -13 | | National Victory | |
| 1942 | 343 | -6 | | National Victory | |
| 1945 | 167 | -176 | | SDP Victory | |
| 1948 | 254 | +87 | | SDP Victory | Charles Armstrong |
| 1951 | 279 | +25 | | National Victory | Charles Armstrong |
| 1954 | 293 | +14 | | National Victory | Charles Armstrong |
| 1957 | 300 | +7 | | National Victory | Charles Armstrong |
| 1960 | 318 | +18 | | National Victory | Anthony Edwards |
| 1963 | 336 | +18 | | National Victory | Anthony Edwards |
| 1966 | 304 | -32 | | National Victory | Anthony Edwards |
| 1969 | 257 | -47 | | SDP Victory | John Cattermole |
| 1972 | 241 | -16 | | SDP VIctory | James Beauchamp |
| 1975 | 274 | +33 | | SDP Victory | Eric Harding |
| 1977 | 349 | +75 | | National Victory | Eric Harding |
| 1980 | 296 | -53 | | National Victory | Eric Harding |
| 1982 | 249 | -47 | | SDP Victory | Eric Harding |
| 1984 | 247 | -2 | | SDP Victory | |
| 1987 | 263 | +16 | | SDP VIctory | Rodney Bowles |
| 1990 | 425 | +182 | 50.6 | National Victory | Megan Taylor |
| 1993 | 378 | -47 | | National Victory | Megan Taylor |
| 1996 | 355 | -23 | | National Victory | Megan Taylor |
| 1999 | 321 | -34 | | National Victory | Megan Taylor |
| 2002 | 326 | +5 | | National Victory | Richard Palmer |
| 2005 | 312 | -14 | | National Victory | Richard Palmer |
| 2008 | 315 | +3 | | National Victory | Stacy Silverman |
| 2011 | | | | SDP Victory | Felix Trevelyan |
| 2014 | | | | SDP Victory | Felix Trevelyan |
| 2016 | | | | SDP Victory | |