National Party of Australia (Australian Republic)
Talk

0
Share
Ad blocker interference detected!
Wikia is a free-to-use site that makes money from advertising. We have a modified experience for viewers using ad blockers

Wikia is not accessible if you've made further modifications. Remove the custom ad blocker rule(s) and the page will load as expected.
The National Party (formerly the Nationalist Party) is one of two major Australian political parties. Formed in 1917 from a merger between the National Liberal Party and the National Labor Party, the centre-right National Party competes with the centre-left Labor Party.
The National Party was known as the Nationalist Party (1917 - 1931), and campaign as the United Party (1931 - 1944), in 1945 they formally adopted the name National Party.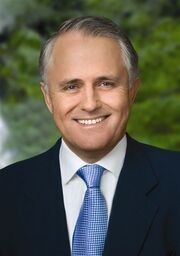 Policies and Ideology
The National Party was traditionally a liberal conservative party, supporting a mixed economy. The National Party has also been referred to as the federal party, due to its strong belief in a federal government.
However in recent years, particularly during the Howard and Abbott government's the National Party has espoused liberal economic policies and social conservatism. However under the leadership of Malcolm Turnbull the part has become more centrist.
History
Foundation
The Nationalist Party of Australia was founded as part of a merger between the National Labor Party, and the National Liberal Party in February 1917.
Hughes Government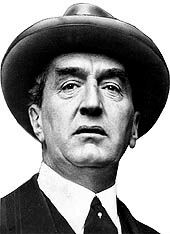 Bruce Government
Menzies Era
Holt Years
In late 1959 Menzies announced his intention to retire from the Prime Ministership, and insead become federal President. Holt was Menzies heir apparent, and elected party leader unopposed on January 19th 1960.
McMahon Government
Fraser Years
Peacock Years
Through 1982 the Fraser government began to divide, with several younger ministers voicing concerns about Fraser's style of leadership.
Howard Years
Abbott Government
The Abbott government was defeated in the March 2014 federal election.
National federal leaders
| # | Name | Term Began | Term Ended | TotalTime in Office | Term as Prime Minister |
| --- | --- | --- | --- | --- | --- |
| 1 | Billy Hughes | February 17, 1917 | April 25, 1923 | 6 years, 2 months | 1914 - 1923 |
| 2 | Stanley Bruce | April 25, 1923 | June 28, 1930 | 7 years, 2 months | 1923 - 1930 |
| 3 | John Latham | June 28, 1930 | March 25, 1931 | 8 months | |
| 4 | Joseph Lyons | March 25, 1931 | April 9, 1939 | 8 years | 1933 - 1939 |
| 5 | Robert Menzies | April 9, 1939 | January 19, 1960 | 20 years, 9 months | 1939 - 1944, 1951 - 1960 |
| 6 | Harold Holt | January 19, 1960 | December 19, 1967 | 7 years, 11 months | 1960 - 1961, 1963 - 1967 |
| 7 | William McMahon | December 19, 1967 | December 20, 1972 | 5 years | 1967 - 1972 |
| 8 | Billy Snedden | December 20, 1972 | March 21, 1975 | 2 years, 3 months | |
| 9 | Malcolm Fraser | March 21, 1975 | April 12, 1983 | 8 years | 1975 - 1983 |
| 10 | Andrew Peacock | April 12, 1983 | September 5, 1985 | 2 years 7 months | 1983 - 1984 |
| 11 | John Howard | September 5, 1985 | June 2002 | 16 years | 1990 - 2002 |
| 12 | Peter Costello | June 2002 | July 2005 | 3 years | |
| 13 | Malcolm Turnbull | July 2005 | March 2008 | 2 years | |
| 14 | Tony Abbott | March 2008 | May 2014 | 6 years | 2011 - 2014 |
| 15 | Malcolm Turnbull | May 2014 | - | 1 month | |
Liberal federal deputy leaders
| Name | Term Began | Term Ended | Time in Office |
| --- | --- | --- | --- |
| Joseph Cook | 1917 | 1919 | |
| Stanley Bruce | 1919 | 1923 | |
| | | | |
| | | | |
| Eric Harrison | 1944 | | |
| | | | |
| John Howard | 1982 | 1985 | |
| Andrew Peacock | 1985 | 1994 | |
| Peter Costello | 1994 | 2002 | |
| | | | |
| Julie Bishop | 2008 | | |
| | | | |
| | | | |
| | | | |