Nate Stevens (Political Simulation Game)

Senator from Virginia
Incumbent
Assumed office
1967
Chairman of the Senate Judiciary Committee
In office
1969–1973
Member of the U.S. House of Representatives Virginia's 2nd Congressional District
In office
1961–1967
Member of the Senate of Virginia
In office
1957–1961
Senate Minority Leader
Incumbent
Assumed office
1979
Personal details
Born

Nathaniel Aaron Stevens


January 11, 1916
Evansville, Indiana
Nationality
America
Political party
Republican
Spouse(s)
Jane Baker Stevens
Children
Noah

Alice

Residence
Norfolk, Virginia
Alma mater
Georgetown University (A.B.)

Harvard University (J.D.)

Occupation
Lawyer, Politician
Religion
Protestant
Political Views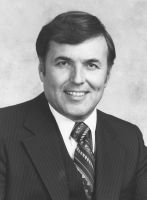 Stevens considers himself a Republican, but for a slightly different reason than most. Stevens, a lawyer at heart, believes that the primary purpose of the government is to protect its people, through law enforcement, military, and economic growth. However, Stevens believes that government must be reduced and reformed. He does not necessarily believe that government spending is bad, though he opposes overspending in certain liberal programs (such as Medicaid and Medicare). Instead, he believes that government is ineffecient, corrupt, and has strayed from representing the people. He is an ardent supporter of bills to reduce corruption, and believes that this will not only improve the efficiency of government, leading to better fiscal responsibility, but also lead to a government that is more representative of the people. This has led him to support returning certain issues to the states, so that each person will have a government more representative of their own views and the views of people around them, and so that the federal government can reduce spending. He believes that the constitution must be more consistently followed, but also should be subject to change by amendments. He believes that many issues are interconnected, and that spending on one thing may boost government income, or that regulating one thing may reduce another problem. This "interconnectivity thesis" is one of his most basic beliefs. Also included in this idea is the belief that the country is not perfect now, and thus things must be looked at through the greater historical view, which is why he supports guaranteeing women equal pay for equal work and increased access to education. Finally, though he is a Republican, he vows to never vote based on party lines, but rather based on his own beliefs and principles.
He notably proposed a bill in Virginia to limit parking lots next to pubs to prevent drunk driving.
Ideas for future Laws
Please contact me if you'd like to co-write any of these with me (Vatonica).
A law to limit Gerrymandering
A law requiring lobbyists to register
An act to lower the pensions of congressmen
An act to reduce the salary of congressmen who have served 10 or more years
A law requiring the publishing of congressional committee meetings
A law requiring the consolidation of government departments
A law requiring committee chairmen to have a term limit as chairmen
A tax repatriation holiday