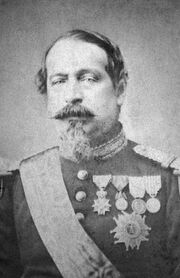 Napoleon was born in 1808 in the Malmaison palace. His father and mother were queen and king of holland and the young Napoleon was brought up there. In 1819 he was invited by his uncle, Napoleon I, to his court at Tuileries and spent much time with the emperor over the next 2 years.
In 1821 he was given an honorary rank of Capitain in the Imperial Guard at the age of 12. He dbecame close cildhood friends with two of his cousins, the king of rome (future Napoleon II) and Eugenie. He became exceptionally good friends with the latter with whom, even as a child, he would go for long walks around the palace with. From their personal diarys it is evident that the two fell in love during the summer of 1823. In 1824 Napoelon proposed to her and, with the consent of their uncle the emperor got married, he was 16 she was 15.
After only a year of young married life the young prince Napoleon joined the army, at the insistance of his uncle. He served in the Imperial Guards and was made an honorary colonel. He served mainly in Paris but was also posted all over france. In 1829 he was promoted to the rank of honorary general of the imperial guard, a rank held only by the emperor and the king of rome. He was valued highly by the emperor who insisted that he and princess Eugenie attend his court permanently from 1830 onwards.
He was present, along with the king of rome, at the emperors deathbed. He supported his cousin when he became emperor and, as heir to the throne, played a key role in politics. This was until 1835, when the increasingly sickly emperor Napoelon II insisted his mother become his main associate. Prince Napoleon left Tuileries and moved to a large house near lake Geneva until the emperors death in 1836.
Ad blocker interference detected!
Wikia is a free-to-use site that makes money from advertising. We have a modified experience for viewers using ad blockers

Wikia is not accessible if you've made further modifications. Remove the custom ad blocker rule(s) and the page will load as expected.