The following page is under construction.

Please do not edit or alter this article in any way while this template is active. All unauthorized edits may be reverted on the admin's discretion. Propose any changes to the talk page.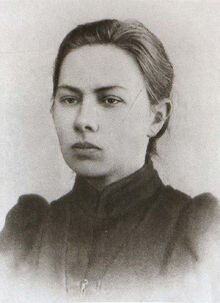 Nadezhda Konstantinova Krupskaya (Наде́жда Константи́новна Кру́пская) was a Russian Bolshevik revolutionary and the wife of Vladimir Lenin, chairman of the Russian Soviet Federative Socialist Republic.
Early Years
Krupskaya was born in the Russian capital of St. Petersburg on February 26, 1869. Despite coming from a family with an aristocratic background, they had serious financial problems. Her father Konstantin Krupsky, a former infantry officer, lost his commission after being convicted of subversive activity. He worked in a factory for much of his latter life before rejoining the army shortly before dying.
Having highly educated parents with an aristocratic background, plus exposure to lower-class life colored her political worldview.
After her father's death, Krupskaya and her mother gave lessons as a source of income. Krupskaya had expressed an interest in entering the education field from a young age. She was particularly drawn to Tolstoy's theories on education, which were fluid instead of structured. They focused on the personal development of each individual student and centered on the importance of the teacher-student relationship.
This led Krupskaya to study many of Tolstoy's works, including his theories of reformation. These were peaceful, law abiding ideas, which focused on people abstaining from unneeded luxuries and being self-dependent instead of hiring someone else to tend their house, etc. Tolstoy made a lasting impression on Krupskaya; it was said that she had "a special contempt for stylish clothes and comfort." She was always modest in dress, as were her furnishings in her home and office.
As a devoted, lifelong student, Krupskaya began to participate in several discussion circles. These groups got together to study and discuss particular topics for the benefit of everyone involved. It was later, in one of these circles, that Krupskaya was first introduced to the theories of Marx. This piqued her interest as a potential way of making life better for her people. Krupskaya began an in-depth study of the subject. This was difficult since such books had been banned by the Russian government. Consequently, revolutionaries had been collecting such books and keeping them in underground libraries.
Marriage
It was at a similar discussion circle that Krupskaya first met Vladimir Ilyich Ulyanov, a dedicated Marxist who later came to be called Lenin. Krupskaya was impressed by his speeches but not his personality, at least at first. It is hard to know very much of the courtship between Lenin and Krupskaya as neither party spoke often of personal matters.
In October 1896, several months after Lenin was arrested, Krupskaya was also arrested. After some time, Lenin was sentenced to exile in Siberia. They had very little communication while in prison but before leaving for Siberia, Lenin wrote a "secret note" to Krupskaya that was delivered by her mother. It suggested that she could be permitted to join him in Siberia if she told people she was his fiancée. At that time, Krupskaya was still awaiting sentencing in Siberia. Krupskaya was permitted to accompany Lenin but only if they were married as soon as she arrived.
In her memoirs, Krupskaya notes "with him even such a job as translation was a labor of love". Her relationship with Lenin was more professional than marital, but she remained loyal, never once considering divorce.
Krupskaya is believed to have suffered from Graves' disease, an illness affecting the thyroid gland in the neck which causes the eyes to bulge and the neck to tighten. It can also disrupt the menstrual cycle, which may explain why Lenin and Krupskaya never had children.
Upon his release, Lenin went off to Europe and settled in Munich where Krupskaya later met up with him upon her release in 1901. After she had arrived the couple moved to London.
Politics
Krupskaya's political life was active: she was a functionary of the Bolshevik faction of the Russian Social Democratic Labor Party from 1903. She became secretary of the Central Committee in 1905; she returned to Russia the same year, but left again after the Revolution of 1905 and worked as a teacher in France a couple of years.
After the October Revolution in 1917, she was appointed deputy to Anatoly Lunacharsky, the People's Commissar for Education, where she took charge of the Adult Education Division.
Ad blocker interference detected!
Wikia is a free-to-use site that makes money from advertising. We have a modified experience for viewers using ad blockers

Wikia is not accessible if you've made further modifications. Remove the custom ad blocker rule(s) and the page will load as expected.