The following Great White South article is obsolete.

This article is no longer part of the Great White South timeline. This page has not been deleted from this website for sentimental and reference purposes. You are welcome to comment on the talk page.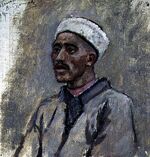 Mustaks (German: Müstakeren; Russian: Мужтаков, Muzhtakov; Spanish: Mustacos; Norwegian: Mustaker) were colonial troops in Antarctica consisting of Indigenous personnel. They were used, to some degree, by every colonial power on the continent other than the French, Dutch and Australians, whose territories were in the Virgin Country.
Etymology
History
Societal impact