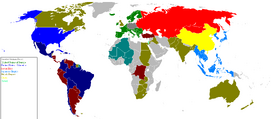 1943
Hitler is killed mid-flight in a bomb planted by conspirators hoping to make peace with the USA and USSR.
After a brief power struggle, Rommel takes command of the German government. He orders his generals to fight the Soviet Union as best as possible.
After a stalemate at Kursk, in which the Russians lose heavily to well trained German Defenders, Rommel and Stalin meet in Riga to discuss peace terms and a ceasefire is declared.
The Treaty of Kiev beings German borders from Latvia to Romania, including all of Poland. The SS are up in arms over this action, which abandons all Russian territory.
The Allied Invasion of Sicily begins. it is a bloody fiasco, with Montgomery wounded by a strafing Bf 109, and his successor Leese and American Leader Patton bitterly squabbling over how to take the island. in the end, with the Soviet ceasefire allowing the Germans to heavily re-enforce Sicily, the Allies pull out.
1944
Inspired by this action, Tojo is overthrown in a no-confidence motion in the Japanese Diet, and more competent generals are put in place.
After a bloody battle where MacArthur was nearly killed in New Guinea, The USA begin to start peace negotiations.
The treaty of Manila on August 3 ends the Pacific war, with South East Asia being Japan's sphere of influence. A four-way cold war begins.
1945
The USA detonate the first atomic bomb, code named "big stick".
Germany (with more leeway since the war ended) detonate an atomic bomb in Algeria.
1946
The Soviet Union test their own nuke in Siberia.
1947
The Japanese complete their nuclear bomb and test it in the Pacific at Bikini Atoll.
The State of Israel is created with support from the USE and the USA.
Germany officially announces the existence of the Holocaust, and the two million killed.
1948
A Three Way Civil war breaks out in China between Mao's Communist's (Supported by the USSR) Chiang's Nationalists (Supported by the US) and the Japanese Puppet Government.
1949
1950
1951
The GDP of the USE is now equal to the USA's.
1952
1953
1954
1955
1956
1957
1958
1959
The Suriname Missile crisis takes place.
1960
1961
1962
1963
1964
1965
Germany gets the first man on the moon.
1966
Rommel officially retires as Chancellor.
Ad blocker interference detected!
Wikia is a free-to-use site that makes money from advertising. We have a modified experience for viewers using ad blockers

Wikia is not accessible if you've made further modifications. Remove the custom ad blocker rule(s) and the page will load as expected.