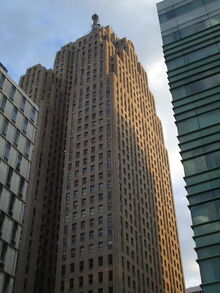 Motown News Network is a media firm operating out of the city of Detroit, Michigan. They operate out of the Penobscot Building in downtown Detroit. The MNN was founded in 1933. They previously used to use radio as their primary medium of communication, but have since retired their radio station in favor of television.
Viewer Area
Their local viewership consists of metropolitan Detroit, and goes as far west as Ann Arbor, and as far north as Flint, serving the combined statistical area. The Motown News Network reports news on the state and national levels, as well as broadcasting the weather report. They are currently covering the 1980 elections. They have expanded into the nearby states of Wisconsin, Illinois, Ohio, Indiana, and the rest of Michigan through primarily radio and television broadcasts.
They broadcast local news for the CSA of Detroit at 7 AM, 5 PM. and 11 PM each day. They have a separate broadcast for all states in their area at 6 PM each day. They are the primary news network of most of the midwestern states.
Broadcasts
This will detail everything about the broadcasts.
Formatting
This consists of how most broadcasts are formatted.
Local Broadcasts
The local broadcast is formatted usually as follows:
5.00 - 5.05 | Greetings and headlines
5.05 - 5.10 | Top story
5.10 - 5.15 | Weather
5.15 - 5.25 | Additional Local Stories
5.25 - 5.30 | "Good" News and Goodbye
Timestamp changes depending on either 7,5, or 11 o'clock news.
WIP
Ad blocker interference detected!
Wikia is a free-to-use site that makes money from advertising. We have a modified experience for viewers using ad blockers

Wikia is not accessible if you've made further modifications. Remove the custom ad blocker rule(s) and the page will load as expected.