Seattle Enquirer March 16th 1990
Andrew Wood, the lead singer of local band Mother Love Bone was at the centre of a near overdose today on heroin in which he had to get revived from local health authorities. It is believed that Wood is extremely lucky in that the amount of heroin taken was only slightly shorter than what would have been enough to lead a human being into a coma. Wood is recovering in hospital and has been placed on a drug avoidance program. His family are said to be most pleased with what could have been much worse and Wood has said to express gratitude to his girlfriend in getting there in time.
Wood, is a prominent member of the local music scene and is the lead singer of hard rock band Mother Love Bone that has recently been involved the recording of an album with record label Startdog/Mercury Records. The local musical and artistic community have today every good reason to feel relieved at what could have been a situation much worse for the young rock singer.
Music Zine August 1990
Last month saw the release of Mother Love Bones anticipated album Apple and what a fantastic rock record it is. We all remember the 1970s the days of the big rock band, the days of Led Zeppelin, Pink Floyd, Motorhead and Black Sabbath among others. That decade was a fantastic time for being a rock fan, suburban Americans everywhere collected stickers, pictures and badges and displayed them proudly on school notebooks and personal belongings. However the 1980s has had less of that and has drifted much more into the realm of pure pop music and self parody. If you like Mother Love Bones epitomises the old type of rock band of our younger years, the band of Zeppelin and Black Sabbath in that it is really a "thinking mans metal". Apple is awash with long songs particularly Crown Of Thorns which is the highlight of the album and a throwback to those days of Stairway To Heaven musical experimental exploits. The song is dazzling and deserves to be released as a single if some sort as a way to rock the musical foundations. Among other great songs in the album is Stardog Champion as well as This Is Shangri la that helps prove that Rock n Roll is not dead.Mother Love Bone have taken something that is essentially a cultural American myth of the cult of Led Zeppelin and transported it to the nineteen nineties taking along with it the memories of Reagan and eighties culture and marketing it for the modern young generation of music listeners. It is sad to hear of the recent near death of Andrew Wood but it is of course fantastic he has pulled through and is said to be "now well and looking forward to playing again". Mother Love Bone could just maybe be the next big thing but only if this dazzling frontman with great charisma can learn to ebb his hopefully remedied drug addiction that so near led to him being put into a coma. I am most looking forward to a second album for this band offers so much. This is the most excited I have been for a band since Guns n Roses a few years ago.
August 1990 Alice In Chains Release Facelift
On August 29th 1990 the popularity of metal received a slight boost with the release of the Alice In Chains album Facelift which managed several positive reviews from the media. Singles such as "Sea Of Sorrow" "Man In The Box" as well as "We Die Young" have received particular attention with many seeing the band as a very good prospect for the future with much to be expected from the band in the near future. Coupled with the success of Mother Love Bone which have taken some by surprise this has been a good year for many of the bands who come from that particular area which has been churning out some particularly talented bands in recent times including the band Nirvana who have been largely popular with Bleach on the college rock circuit.
January 1991
During 1991 following the massive success of Apple,Mother Love Bone were considered by many to be the next big thing, In January 1991 the band embarked on a tour of America and Europe playing at the Wulfru Hall in Wolverhampton,England that received particular attention following the laid back attitude of lead singer Andrew Wood.
British Music Zine Concert Review January 1991
The buzz surrounding American hard rock band Mother Love Bone is surely deserved in light of the fantastic show they played at Wulfrun Hall in Wolverhampton.As what could be expected at a rock n roll performance there was plenty of banter with fans before the band opened up with Crown Of Thorns which has proven to be a huge success for the band. The song lit up the hall and soon the audience were off there seats and revelling in the sheer improvisation of the band who in great fashion emulated Led Zeppelin with homages to Led Zeppelin concerts in the 70s particularly through the reason to cover that rock classic Stairway To Heaven albeit with a twist much more suited to Southern Music to its original. The band performed and another hit that proved popular was Capricorn Sister a rather underrated song from the bands first album. The band seem really to revel in the attention and Andrew Wood has really proved himself to be a man much attuned to the mood of the audience through several quips of humor and jokes at his own expense. Andrew Wood is very similar to Robert Plant in the sheer drawl of his vocals but with a slight Axl Rose twinge that Wood noticeably tried to downplay during the audience. This was a very good performance from a band that could really soon be hitting the mainstream. 10 out of 10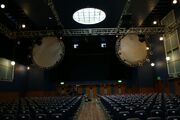 .
Rock N Roll Magazine February 1991
It has recently been suggested through several reliable sources that following the massive success of their debut album Apple, Mother Love Bone has begun to record a second album. The title has not yet been revealed but it is believed it is currently being recorded at London Bridge Studio in Seattle,Washington. This is where the band recorded a large part of Apple. Rick Parashar looks set to produce the album which is believed to have a much larger distribution than there first one did due to the massive success of the band particularly in Europe where the band have achieved an unusual cult following in several Scandinavian countries with the band believed to be most popular in Sweden. The band have also achieved massive success in recent tours in North America and Europe.In Wolverhampton in particular the band received a very much Beatles-esque audience frenzy.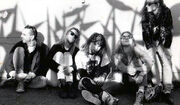 Andrew Wood Interview Local Magazine End Of February 1991
Interviewer- Hello, thank you for granting the interview. How is it being in a band right now that is doing well?
Andrew Wood-I'm honoured to be here.Well of course it is a fantastic thing to be doing well obviously and it is really a dream we are getting much attention for i never really believed i would be here receiving attention from some of the music magazines that has helped sustain me these few years.
Interviewer-If you don't mind me asking how was it in getting back into gear after a near fatal drug overdose?
Andrew Wood-It was a particularly tough time for my bandmates and my family and I am only thankful I was lucky to come through it the way I did.
Interviewer-Well according to rumours you are currently in this neck of the woods recording the new album. What is there to expect?
Andrew Wood-Well I have always liked quite experimental things but never becoming totally experimental. Much of what the Beatles did often was very groundbreaking, songs like Hey Jude for instance and yet despite how out there it is it is very much easy to listen to and very catchy at the same time. Similarly Bohemian Rhapsody by Queen was fantastic in much the same way in that it opens up boundaries but at the same time is perfectly nice to listen to.
Interviewer-We heard much about your escapades on tour. According to some music fans you are very much like a "metal version of the Beatles" in the attention you have received and the hold on the audience you have managed to exert.
Andrew Wood-Me and my band are naturally flattered at such a comparison but we must remain humble or what we will produce will become pretentious to massive levels, also Black Sabbath were really the closest a metal band ever came to being close to the Beatles.
Interviewer-We know you want to get on with things but one last question, what is your view of the so called Grunge scene coming from here in Seatlle.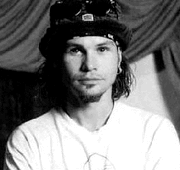 Andrew Wood-To be perfectly honest I never really believed in a Grunge scene. I think it is nonsense. A few years ago with my old band Malfunkshun we were marketed at grass roots level in that sort of way but I thought we weren't like them at all. Much of what is supposed to be Grunge is quite dirty, hardcore related stuff but being honest I grew up on people like Elton John who is perhaps the opposite you can get from Punk Rock. I don't consider myself a part of that, we play our own music our own way.
March 1991 First Television Performance On British Television On The Word
The musical performance today is by rockers Mother Love Bone who have recently been in Seattle recording a new album. Mother Love Bone singing Stardog Champion.
British Musical Fanzine After The Word Performance
Last night's television performance by Mother Love Bone was utterly spectacular. Andrew Wood is utterly charming and is charismatic in a way not seen in years. They have attracted some attention almost definitely after what was a mind bending show of rock n roll swagger.
Mother Love Bone Album Title Announced
Mother Love Bone have confirmed the title of their second album is to be called Sunshine Shores. It is expected to be released in January 1992 to capitalise on the Christmas period. The full lineup are present on the album. Some songs that have already been played on tour are thought to be on the new album.
Nirvana Forced To Alter Direction On Album -June 1991
In regards to the band Nirvana it was thought prudent to alter the sound of the album due to the popular success of Mother Love Bone as seen in the release of their first album. Knowing this it was thought very useful to re-record some of the album pushing the album back to a January 1992 release. This meant that such songs as Lithium and In Bloom were discarded from the release along with others in favour of heavier tracks such as Even In His Youth to complement the blast of popular metal arising from Mother Love Bones' first album as well as the heavy success of Alice In Chains in the music underground, a metal band from the same area. Kurt Cobain was said to have resisted the changes but pressure from DGC record honchos forced the band similarly to change the album from the title Never mind in favour of the name Curmudgeon believed to cater more for the rock underground movement. Kurt Cobain years later would recall in an interview "I honestly believe that if we had kept the original focus of the album the same as I planned, we would have been slightly more successful than we were with Curmudgeon which almost didn't end up getting called that. It was almost called Never mind but the company decided to change it as it seemed too ambitious and Curmudgeon seemed like something that would appeal to stoner type people as well as metal heads. I honestly did not want to go in that direction but Mother Love Bone particularly in that year were extremely successful and so we had to get rid of some of the pop elements I originally wanted on the album."
January 1992 Nirvana release Curmedgeon
In January 1992 Nirvana released Curmedgeon. The album proved itself to be a slight success where it managed to get up to 25 in the Dutch Top 40, 19 in the New Zealand Album Chart, 25 in the UK Album Chart and 35 in the US Billboard 200 respectively. The album received mixed reviews in the press. The album helped establish the band as slight successes especially in the United Kingdom where their cult following increased especially with the success of the single Smells Like Teen Spirit which proved to be a one hit wonder in several countries. The band shortly after emerged as successes on tour in Britain, achieving success especially in university circles.
January 1992-May 1992 Mother Love Bone releases Sunshine Shores
In January 1992 all that could have possibly went right for Mother Love Bone went right upon the release of their follow up album. Sunshine Shores proved to be an unprecedented success. The album within a month quickly escalated the charts. In March 1992 the single Tracy Dixx became an MTV mainstay. The single went on to become huge and to many established the later prevailing mood of the 1990s. The album received overwhelmingly positive reviews and was said by some to be perhaps one of the greatest rock albums of all time. Mother Love Bone fever reached a strange high. Andrew Wood became overnight a hero to teenagers everywhere and in April 1992 the band went on tour where it received levels of attention not seen since the days of bands such as the Beatles and Led Zeppelin. Four other singles were released all which charted very highly. It soon was estimated that the album was selling 350,000 copies every week. In Britain the album was similarly huge entering the album chart at number 2 despite competing with international pop groups and singers. In April of 92 the unthinkable happened when the album reached number 1 on the Billboard 200. It also reached 2 on the German album chart, 1 on the Dutch albums chart, 1 on the Canadian RPM album chart, and 1 on the Australian Albums Chart among several others. Andrew Wood saw his face immediately plastered on every major music and cultural magazine. A picture of the band in May 1992 was emblazoned on Rolling Stones Magazine. The band were essentially a new Beatles.
Ad blocker interference detected!
Wikia is a free-to-use site that makes money from advertising. We have a modified experience for viewers using ad blockers

Wikia is not accessible if you've made further modifications. Remove the custom ad blocker rule(s) and the page will load as expected.