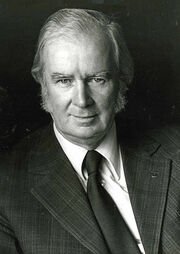 John Morgan Evans
(July 1, 1916 - July 13, 1996) was a Welsh politician who served as Prime Minister of Wales from 1963 to 1974, and again from 1979 to 1981. He served as leader of 
Cymru Fydd
 from 1963 to 1981.
Evans entered parliament in 1947 as MP for Caerphilly. When Cymru Fydd returned to government in 1950 he was immediately appointed to cabinet as Minister of Transport, later becoming Minister of Agriculture.
He served as Minister of Coal from 1958, until being appointed Minister of Finance in 1960. In 1963 he was elected leader of Cymru Fydd and subsequently became Prime Minister. He moved Cymru Fydd toward the political left, and significantly expanded the Welsh welfare state, as well as using state intervention to protect the Welsh economy. He led Cymru Fydd to electoral victories in 1963, 1966 and 1970 before being defeated at the 1974 election.
Evans led Cymru Fydd back into government, winning a landslide victory at the 1979 election.
Early Life
John Morgan Evans was born on July 1, 1916 in Caerphilly, Wales. He was the son of John Evans (1886-1950) and Glynis Evans (Nee Hughes) (1895-1977). His parents were fairly conservative supporters of Cymru Fydd, his father being a veteran of the War of Independence.
Evans was educated at Pengam School, before going to the University of Wales, Aberystwyth from 1934, studying History and Economics. He graduated in 1937 with a clear First, and the best results in his final exam the University had ever had.
He joined the civil service immediately after University, firstly as a junior secretary at the Department of Coal, but following a series of rapid promotions ended up as Deputy Director of the Department of Coal in 1939. In 1941 he moved to the Department of Finance, becoming Deputy Director, and at 25 one of the most senior civil servants in the country.
Early Political Career
Evans had joined Cymru Fydd in 1944. He built up a strong relationship with Cymru Fydd cabinet ministers, especially Finance Minister George Jenkins. In 1946 he resigned from the civil service, and with Jenkins' assistance was selected as a Cymru Fydd candidate for Caerphilly. The campaign was tough, but Morgan was eventually elected, a seat he was to hold for the next 35 years.
Although he was elected to the Senedd, Cymru Fydd lost the 1947 election, ending 31 years of continuous Cymru Fydd government.
Prime Minister 1963-74
Evans was elected Leader of Cymru Fydd in July 1963. A general election was due to be held by November, and in a surprising move the day after being sworn in as Prime Minister Evans called an election for October 23rd, creating a three month long election campaign.
Opposition Leader 1974-79
The 1979 election saw Cymru Fydd win a landslide 20 seat majority in the Senedd.
Prime Minister 1979-1981
Later Life
Evans remained a prominent figure in Cymru Fydd following his retirement, and in 1982 was appointed honorary President of the party. He became a strong critic of Dylan Williams' leadership style, and the scandal ridden 1987-92 government. In 1989 he resigned as honorary President following the decision to close several South Wales coal pits.