Working progress
The Sovereign of Westralia, is the countries head of state while the head of government is the First Minister. Despite many monarchies being mainly ceremonial, the Sovereign is the most powerful person in Westralia. The Sovereign also has the title of 'Chief of the Military' and 'Executive of the Presbyterian Church of Westralia.' The current sovereign is Thomas V, (born 1944), who has been ruling since 1993 after his sister's, Heiress Patricia of Freemantle, abdication. He is married to his consort, Kayleen, Duchess of Mt. Gambier, with whom he has four children; Charlotte Lorna Elizabeth Playford, Lady of Mt. Gambier, (born 1968), Thomas Aloysius Lennox Playford, Baron of Bunbury, (born 1971), Matthew Claude Alfred Playford, Prince of Nullabor, (born 1974) and Margaret Frances Olga Playford, (1980). The heir to the throne is Thomas V's eldest son Thomas who will become Sovereign Thomas VI upon his fathers death or abdication.
List of Monarchs of Westralia below:
Limouzin Family Dynasty (1808 - 1835)
Sovereign Simon I (1808 - 1813)
Heiress Mildred of Adelaide (1813 - 1822)
Sovereign Simon II (1822 - 1835)
Turmoil Period (1835)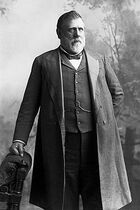 Grand Governor Alfred of the Eyre Peninsula (1835)
Pemberton Family Dynasty (1835 - 1847)
Dylan the Awful (1835 - 1847)
Playford Family Dynasty (1847 - Present)
Sovereign Thomas I (1847 - 1862)
Sovereign Thomas II (1862 - 1915)
Sovereign Thomas III (1915 - 1938)
Sovereign Thomas IV (1938 - 1989)
Heiress Patricia of Freemantle (1989 - 1993)

Sovereign Thomas V (1993 - Incumbent)
==List of Fistst Ministers of Westralia==
===Simon II===
Ad blocker interference detected!
Wikia is a free-to-use site that makes money from advertising. We have a modified experience for viewers using ad blockers

Wikia is not accessible if you've made further modifications. Remove the custom ad blocker rule(s) and the page will load as expected.