State of Mississippi
— State of the United States of America —
Timeline: Alternity
OTL equivalent: Northern Mississippi and Alabama

Flag of Mississippi
Seal

Location of Mississippi in the United States

Capital
Aberdeen
Largest city
Birmingham
Other cities
Huntsville, Tuscaloosa, Decatur
Language
English
Ethnic groups
  main
 
White (non-Hispanic)
White (Hispanic)
  others
Native American, Black, Asian
Demonym
Mississippian
Government
Representative
democracy
  legislature
State Legislature
Governor
Kirk Fordice (R)
Population
4,082,600 
Admission
December 1819
Currency
USD
Time zone
Eastern Standard
  summer
Eastern Daylight
Abbreviations
MS
Mississippi (MS) is a state located in the Southern United States. It was admitted to the Union as the 23rd state on December 10, 1819 and shares borders with Tennessee to the north, Georgia to the east, West Florida to the south, and Louisiana and Arkansas to the west, across the river for which the state is named. Birmingham is the largest city in the state, while the state capital of Aberdeen (pop. 100,000) is the fifth-largest.
Mississippi was a major grower of cotton in the US prior to the Civil War, and was the first state to secede from the Union in 1861, and became one of the founding members of the Confederate States of America. During the war, the Mississippi River was the center of a Union campaign headed by General (and later 17th US president) Ulysses S. Grant, who laid siege to and captured the Confederate stronghold at Vicksburg in neighboring West Florida. Mississippi was also the last to be readmitted to the Union, in 1866, and underwent radical political changes in the latter half of the 19th century, which included two new state constitutions, and the typical Jim Crow laws of the era that restricted the rights of blacks. In the 1950s and 60s, Mississippi was a center for the Civil Rights Movement and the scenes of protests by now-legendary figures such as Rosa Parks and Martin Luther King, Jr.
Part of the state's true legacy, on the other hand, comes from the invention of five popular and/or mainstream music types (gospel, country, jazz, blues, and rock and roll) that, to this day, are composed and listened to by Americans nationwide.
Counties
Mississippi is subdivided into 32 counties, of which, the 10 largest are listed below in order of population.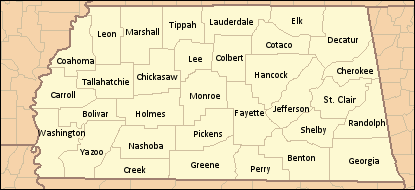 | Rank | Name | County Seat | Population |
| --- | --- | --- | --- |
| 1 | Jefferson County | Birmingham | 715,000 |
| 2 | Elk County | Huntsville | 369,000 |
| 3 | St. Clair County | Riverside | 240,000 |
| 4 | Cherokee County | Hokes Bluff | 230,000 |
| 5 | Georgia County | Dadeville | 210,000 |
| 6 | Decatur County | Scottsboro | 203,000 |
| 7 | Shelby County | Alabaster | 195,000 |
| 8 | Fayette County | Tuscaloosa | 185,000 |
| 9 | Hancock County | Jasper | 175,000 |
| 10 | Leon County | Coldwater | 167,000 |
Ad blocker interference detected!
Wikia is a free-to-use site that makes money from advertising. We have a modified experience for viewers using ad blockers

Wikia is not accessible if you've made further modifications. Remove the custom ad blocker rule(s) and the page will load as expected.